It's our last two days of this road trip.  We are now in Kansas City – my hometown and the arguably the spiritual home of barbecue.  With more than 100 BBQ spots, there just may be more BBQ joints per capita than anywhere in America.  And this is also the home of the barbecue competition sanctioning body, the Kansas City Barbecue Society (KCBS).
Picking the best to visit is a challenge. Our goal here is to sample a variety of different styles within the spectrum of Kansas City BBQ. We've chosen some of the founding fathers along with some of the newer boys (and girls) on the block. First up, Arthur Bryant's.
Arthur Bryant's
https://www.arthurbryantsbbq.com/
This institution of BBQ traces it roots back to Henry Perry who began serving smoked meats to garment workers in 1908. Charlie Bryant worked for Henry, taking over the place when he died in 1940. Arthur came to visit his brother not long after and never left, ultimately taking over in 1946. Arthur moved the restaurant to its current location at 18th and Brooklyn in 1958, a short distance from the Municipal stadium that was home to the Kansas City Blues and Kansas City Athletics. As people passed through town, they tried out the barbecue and a reputation was launched. It has since seen celebrities (Tom Watson, Steven Speilberg, Harrison Ford, James Spader) and presidents (Harry Truman, Jimmy Carter, Bill Clinton, Barak Obama to name a few).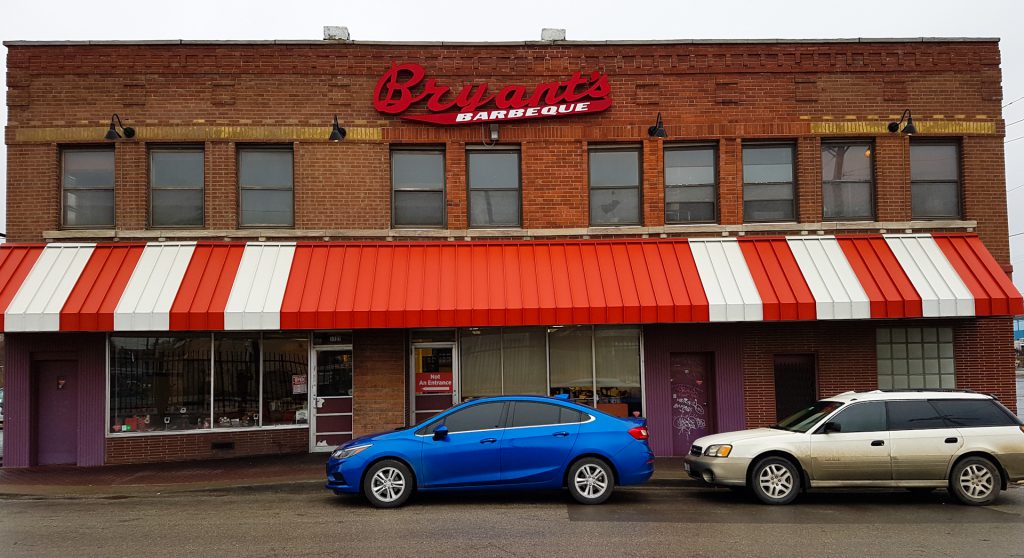 Arthur "created" the burnt ends Kansas City is famous for when he put out chunks of the brisket trimmings for customers to munch on while they waited in line to order. He was a regular sight at the place right up until his death.
From the moment you enter you see this place just oozes history. From the old photographs and signs to the worn Formica tables, it is easy to tell this there is a long tradition here. There is a high menu over the old-fashioned walk-up counter where you watch them preparing your order.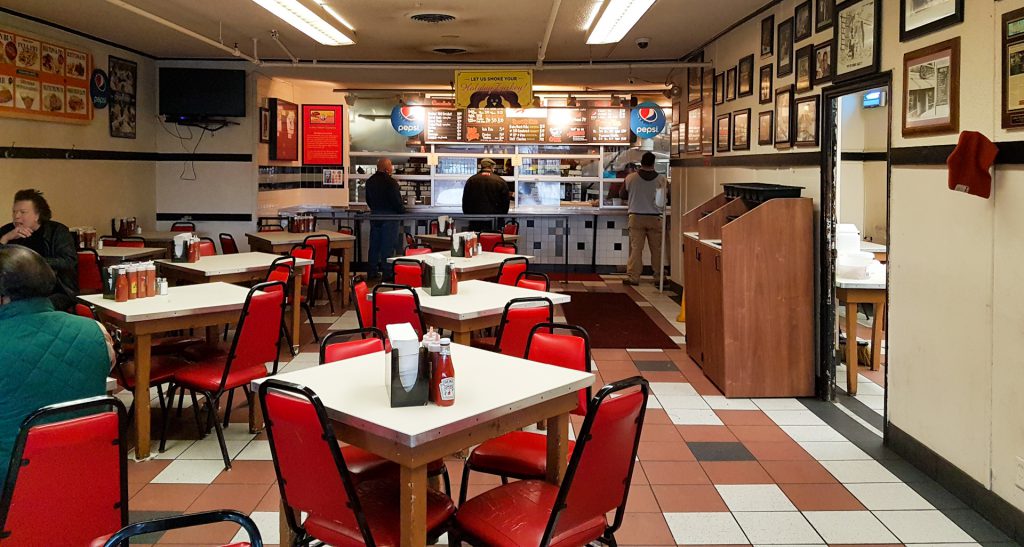 We've gotten to this place early, it's only 11:00, and it is already busy. There are a number of people already eating in the two dining areas. As with all KC BBQ joints, you have a range of sandwiches to choose from as well as plain sliced meats, ribs and a bunch of sides. We place what has become our standard order of 'everything' and take a massive tray of meat to our table.


After we finish our sampling and scoring, we ask if we can have a look in the back.  Kristea is happy to show us around.  We head straight to the smokers, a pair of in-direct wood-fired rotisserie Old Hickory Pits smokers.  Kristea says they burn a random mix of hardwoods including oak, hickory and 'whatever else is sitting there'.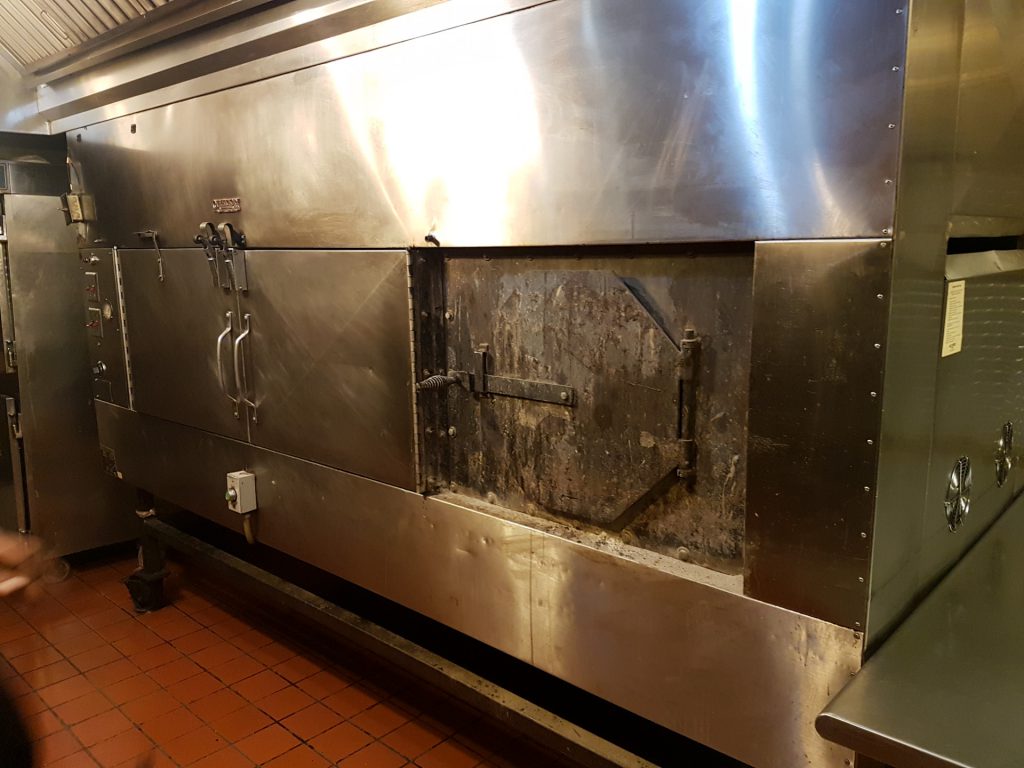 They start their prep at about 18:30, trimming and rubbing down the meats. These rest until about 18:30 when they finally get put in the smoker. They cook the briskets and pork butts until about 07:00 (about 12 ½ hours) when they take them out to rest until opening at 11:00.
We've got a number of spots to hit today so we are off to the next one, Rosedale BBQ.
Rosedale
http://www.rosedalebarbeque.com
We cross downtown to the Kansas side to a joint that started up just as prohibition ended.  They wanted to take advantage of the opportunity to sell beer and opened up a beer and hotdog stand in 1934.  There was a BBQ place a bit down the road and they knew offering up BBQ would increase their beer sales.  They set up a small tin shack and Rosedale BBQ was born.

It has expanded quite a bit now offering take-away, counter and sit down service. They also gone from a bit of smoked meat to a full menu with a wide range of sides.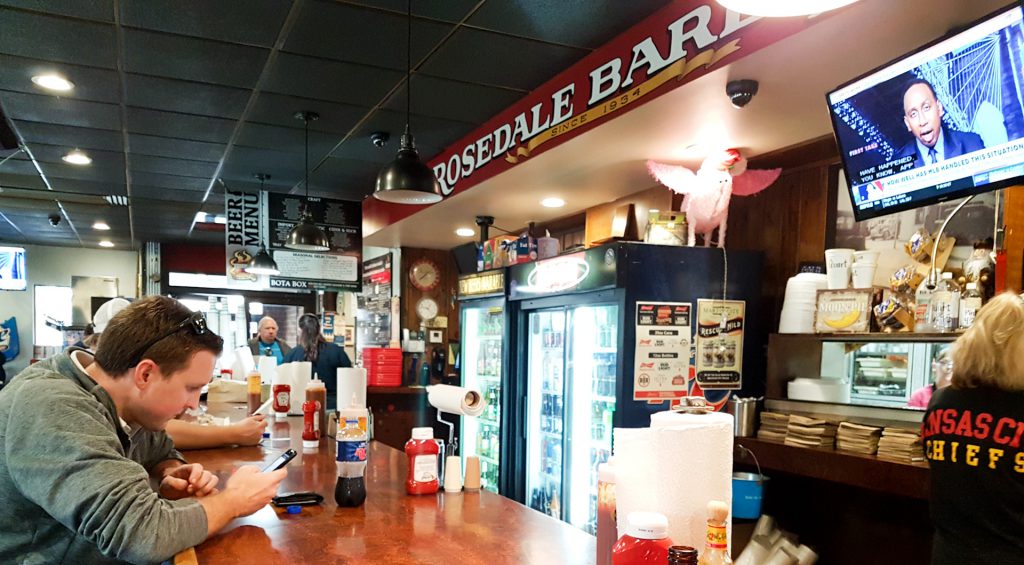 This spot is a proper home-town BBQ joint with an old diner feel. They open early on game days (football and baseball) for take-away. You've got proper counter service as well as tables and you have your food within minutes of ordering. They have expanded the building several times over the past few years but have maintained their charm.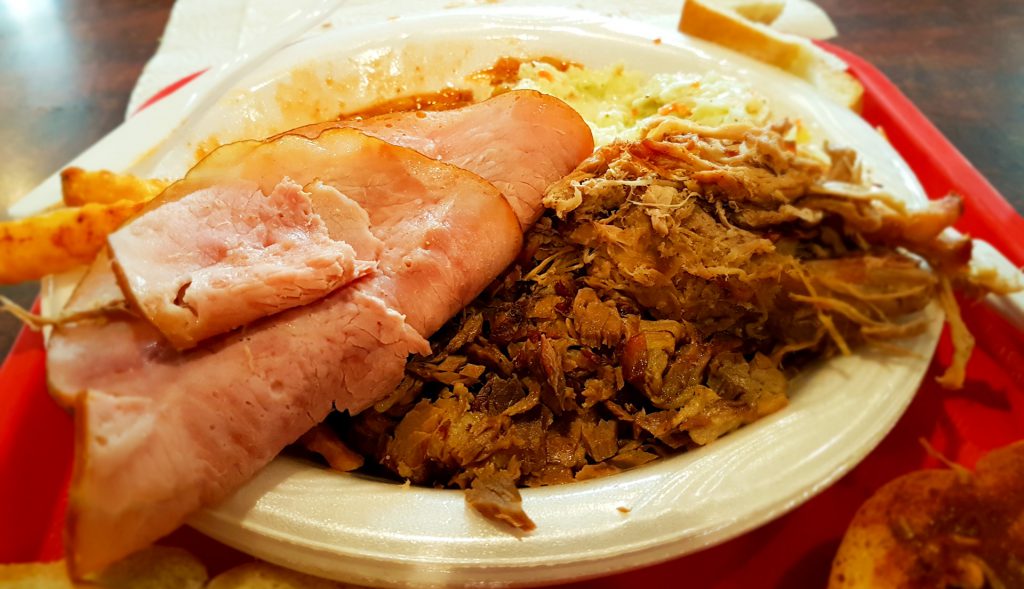 We're a bit short on time today so we get our food, take our notes and score them. There is no time for a tour and these guys are swamped anyway as we arrived during lunch rush so its not a good time to ask. We do have a quick chat and mention what we are doing. They are excited to hear about our road trip and quite proud we stopped by.
L.C.'s
This spot is not on the list of top 50 BBQ joints in American, but it certainly is a Kansas City institution. It opened in 1986 in its current location. Around Kansas City they are arguably best known for their sponsorship of the Kansas City Chiefs football team. You cannot listen to a game and not hear a commercial for these guys. And they live up to this by opening early every game day to allow people to get BBQ for their tailgate parties.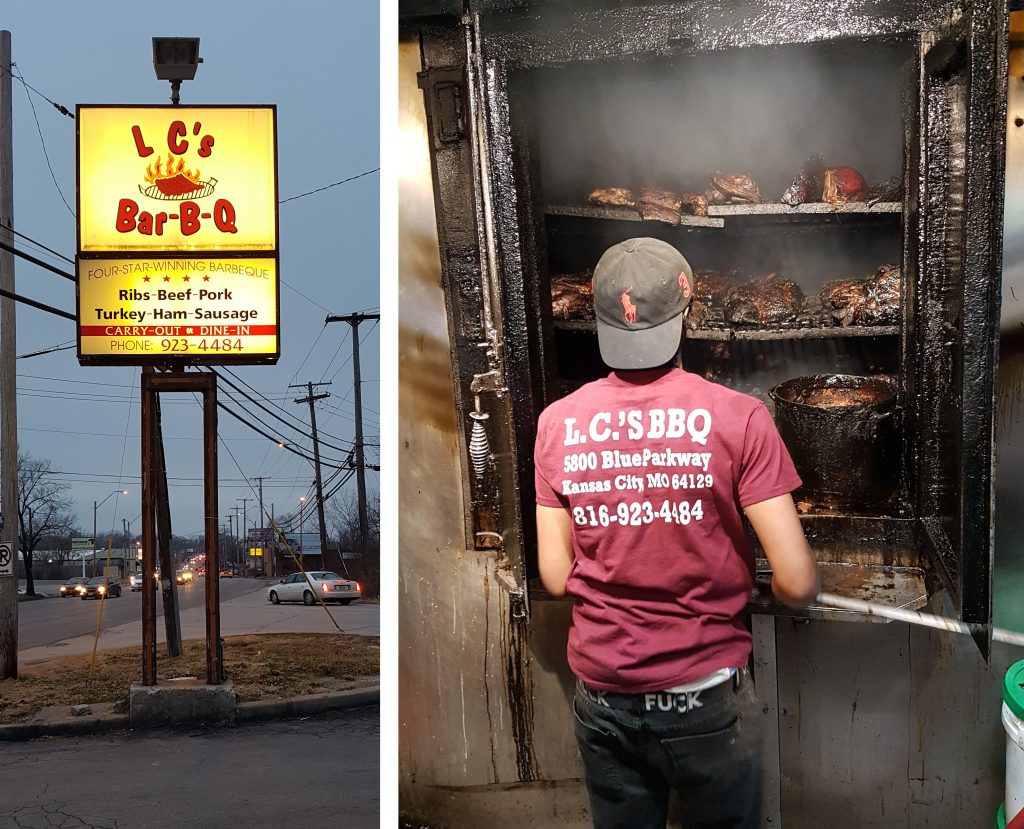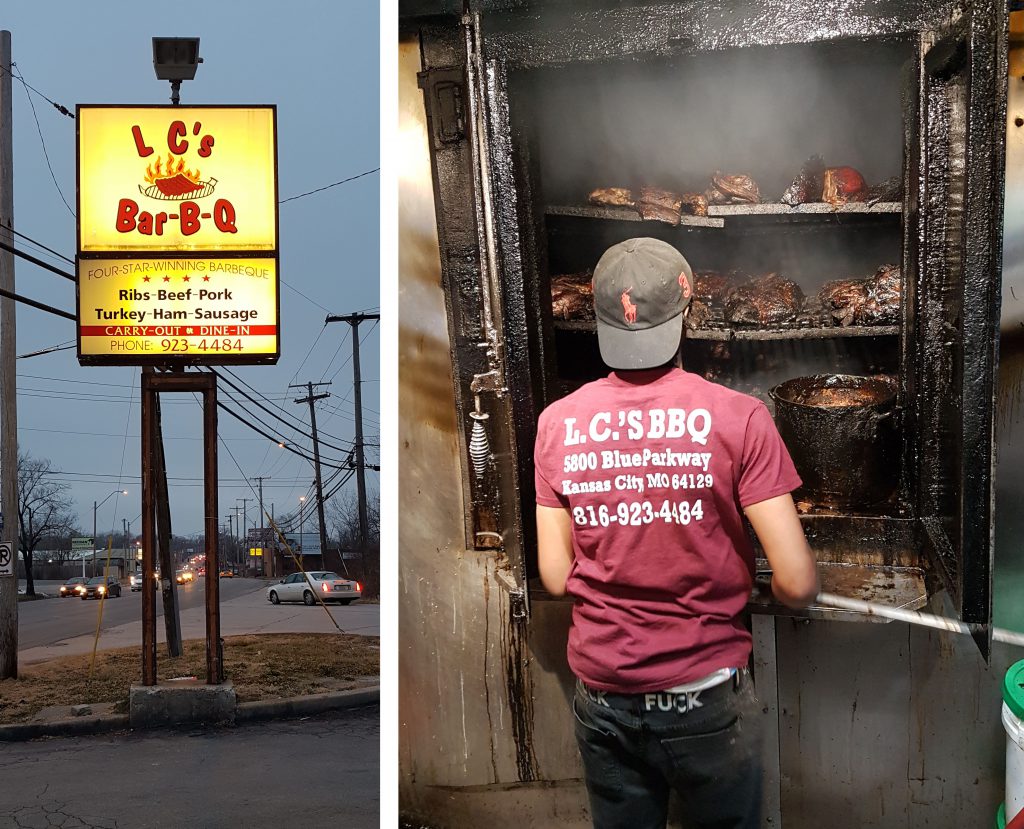 This is a tiny place that looks like it was last decorated, well, in 1960 — a bit odd since it opened in 1986. Their pit is front and centre in the restaurant and you get to see all the magic happening every time someone orders.
Unfortunately, the pit (and the grease hood in front of it) looks like it hasn't been cleaned since it was opened. The rest of the place seems clean, but the pit is a mess. And outside is even worse.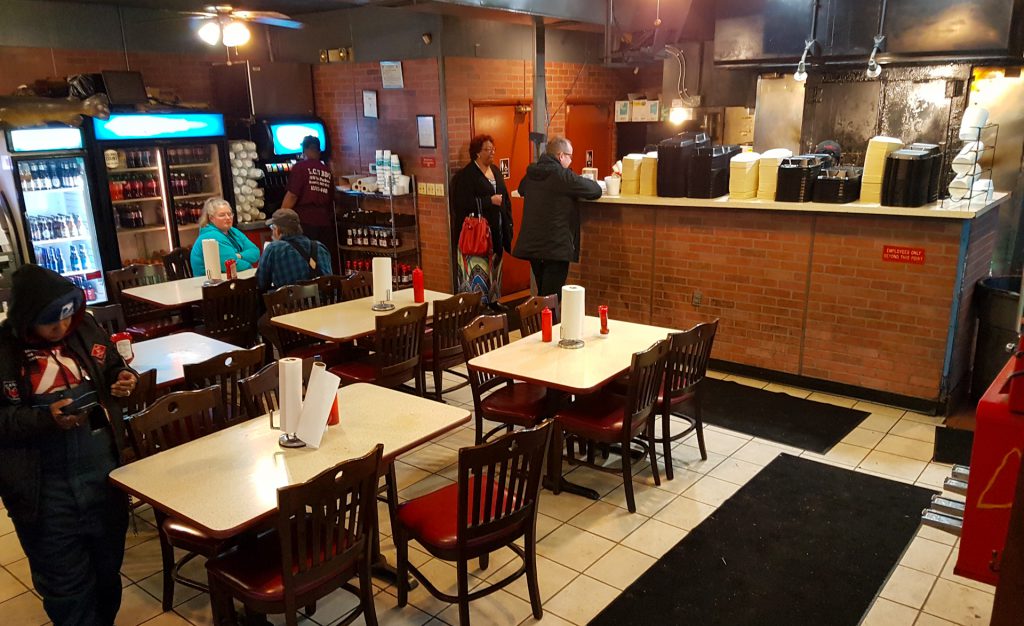 But we're here and we going to give it a go. The staff are friendly and happy to talk to us. The owner is there and we're told to have a chat with him while we wait for our order — he's watching a football game on the TV in the corner of the restaurant.

We order up a plate of brisket, ham, pork and ribs. We're short on time so we get it all to go — we'll taste it all later.
Gates
It's pushing 17:00 and we are on to our next stop — Gates BBQ. This is another KC institution with bags of history. This spot has close ties with Arthur Bryants. Gates opened in 1946 and like Arthur Bryant's can trace itself back to Henry Perry, the founder of KC barbecue. Arthur Pinkard, who learned barbecue from Henry Perry himself, was working at Ol' Kentuck when it was purchased by George and Ollie Gates. He stayed on to run the pits and taught them everything he knew.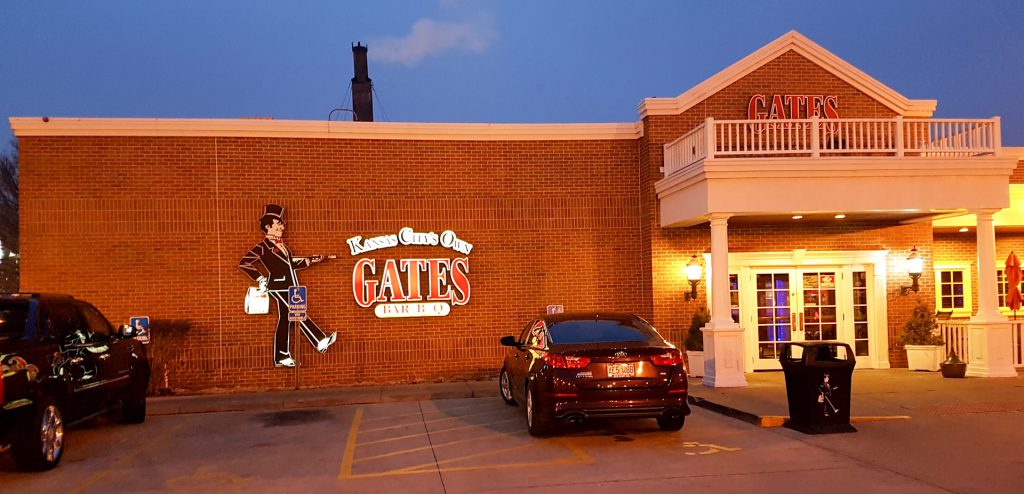 Gates has moved about a bit in KC over the years but it has settled now near its historic location at Linwood and Main. This is the location we are headed to today.
Inside you find not just BBQ but history of the site itself. It's original trolley car site is inside the building and still taking orders. This site is a restaurant, event site and headquarters for the company as well.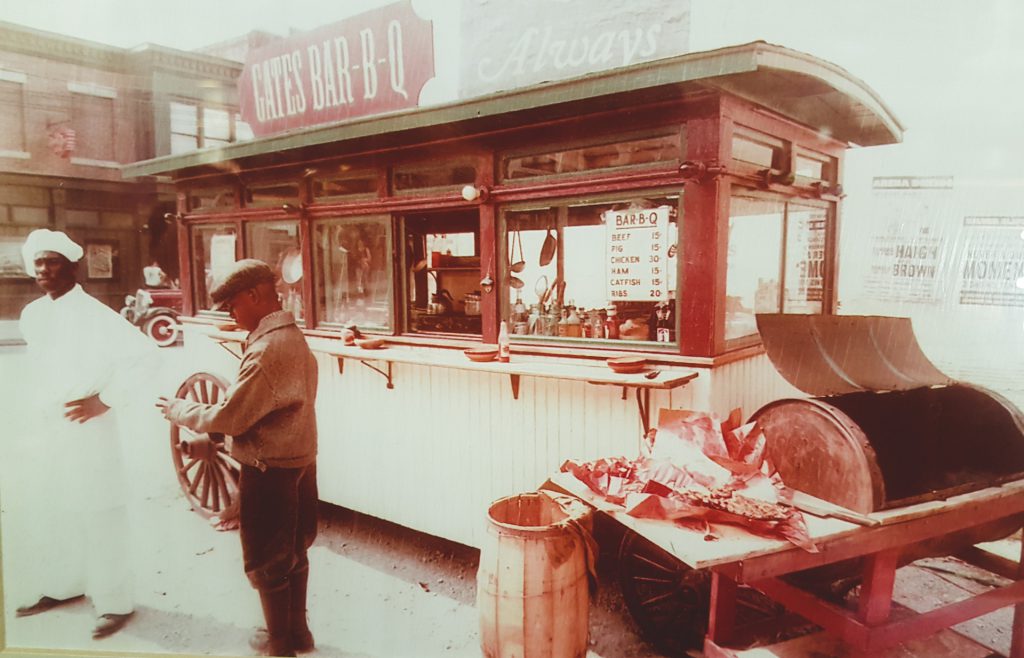 From the moment you walk in it almost feels more like a museum than a restaurant. But their trademark greeting — Hi may I help you? — brings you back quickly. This is not a spot to dawdle. You're here to order food and get down to eating!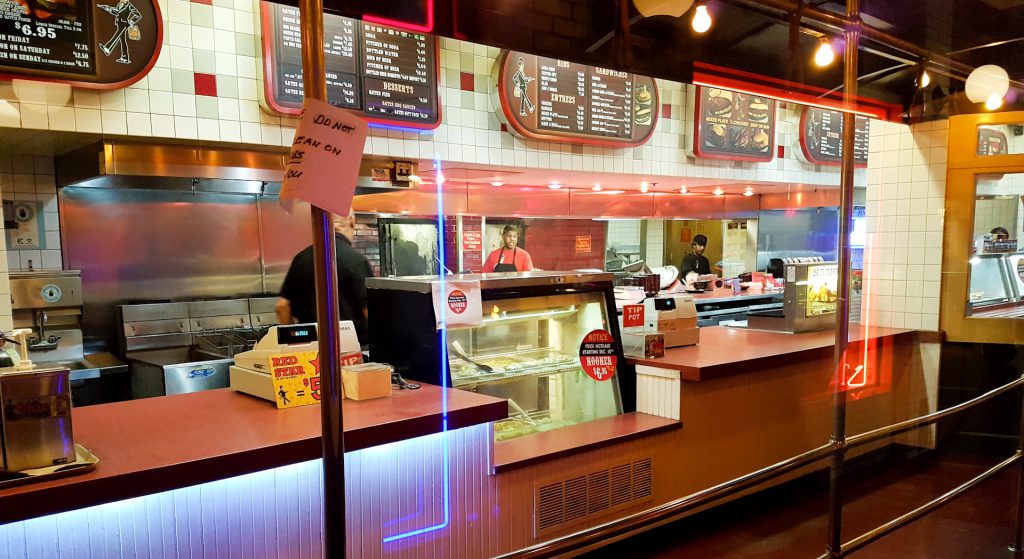 We order up a three-meat platter (brisket, pork and ham) plus some ribs and toss in a side of beans.

We're late for dinner — yeah, this isn't dinner believe it or not — so we take it all to go and we'll sample it all at mom's. I have high hopes of this impressing Adrian.