From Lockhart we are headed to Dallas, Texas to meet up with Joel, an old friend and former work colleague and to sample some BBQ and Dallas nightlife. It's just over a three hour drive from Lockhart.
We're headed to northeast Dallas to Lakewood Smokehouse. Joel recommended this spot; it didn't figure in any of the many "top BBQ" lists so we are anxious to see how it will compare.
Lakewood Smokehouse
https://www.lakewoodsmokehouse.com/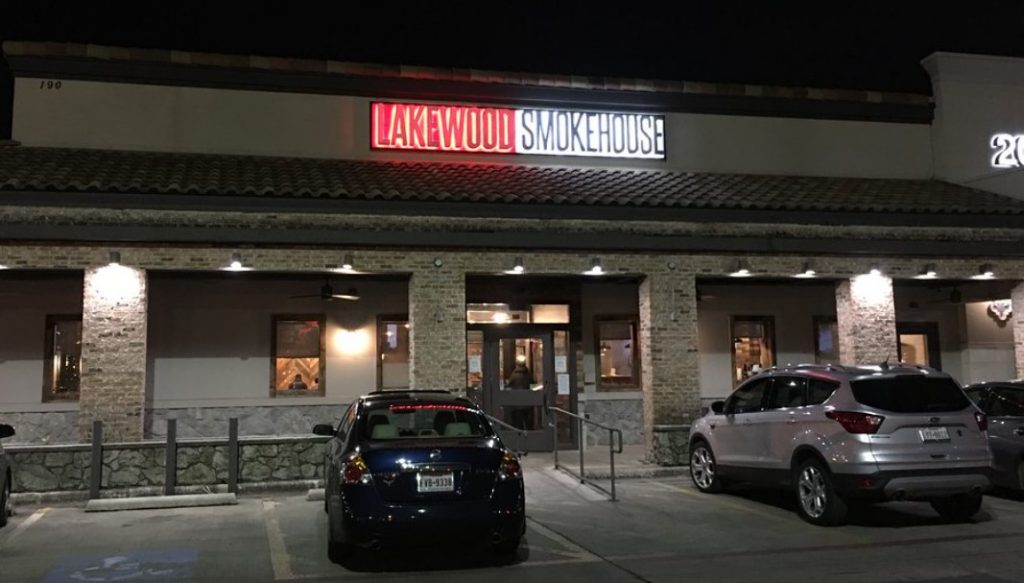 Lakewood Smokehouse is the most commercial of the spots we've been so far. This place is run by restaurant professionals, not BBQ enthusiasts. You've got a greeter on the door, proper restaurant menus and a far more neutral restaurant décor. But none of that means they can't cook BBQ.
We grab one of the local tipples (Dallas Blonde – that's a beer, not a girl) and work our way through the menu. It has all the traditional items you'd expect but also plenty of options for non-BBQ lovers (whoever they might be – I'm sad for them) including tacos, burgers and pizza.
We settle on the 3-meat plate (brisket, pulled pork and sausage) and toss in ribs added and a platter of burnt ends for good measure. It's the first time we've seen burnt ends since we got to Texas. Their sausage is from Kreutz Market so we're expecting that to be good.
Food is out to us straightaway. We pull out our tasting card and start taking notes to the bemusement of our friend and the restaurant staff.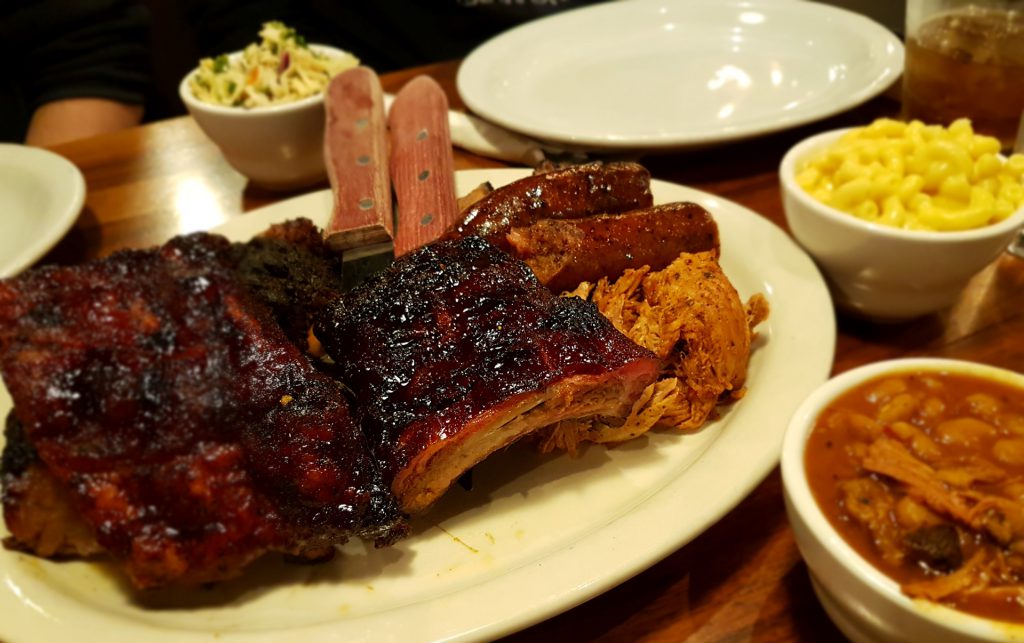 The back of house manager, Clayton, stops by to see how the food is and we get to chatting. He takes us back to see the smokers. These guys use a mix of hickory, oak and mesquite. They are the first ones we have come across to use anything but post oak. It certainly explains the slightly sweeter taste to their meats.
They are using fairly standard commercial smoker with a vertical configuration having the firebox on the bottom. It's all wood-fired with a thick bed of coals providing the heat and burning logs for the smoke. They have two smokers but only use the second one for the busiest periods.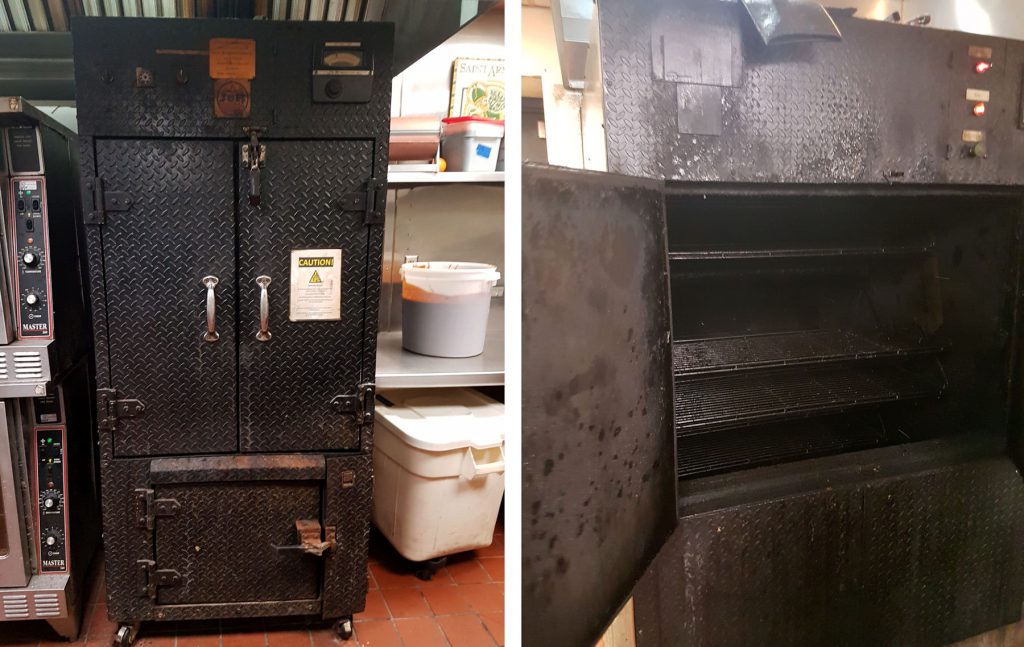 They use a basic Texas-style rub of salt, pepper and cayenne but unlike some others they don't have a long marinating time putting on the rub and straight into the smoker. They cook at about 200 degrees; a bit cooler than is typical for the low and slow method.
Clayton, like everyone we've met in Texas so far, was friendly and unpretentious. He wanted to hear about us as much as we wanted to hear from him. This might have been the most commercial joint so far, but they still care about their food and their customers. We were pleasantly surprised.
Next up is some local nightlife. We've not had the chance to sample the nightlife anywhere we have gone so far so we are looking forward to this. Our mate, Joel, takes us just around the corner from Lakewood Smokehouse to the Balcony Club. It's an amazing little live jazz club that reminds me of a club in Paris that Joel and I spent time in.
A small stage with a three piece ensemble playing some great jazz standards combined with a friendly bartender made for a great place to chat and catch up. What a great night!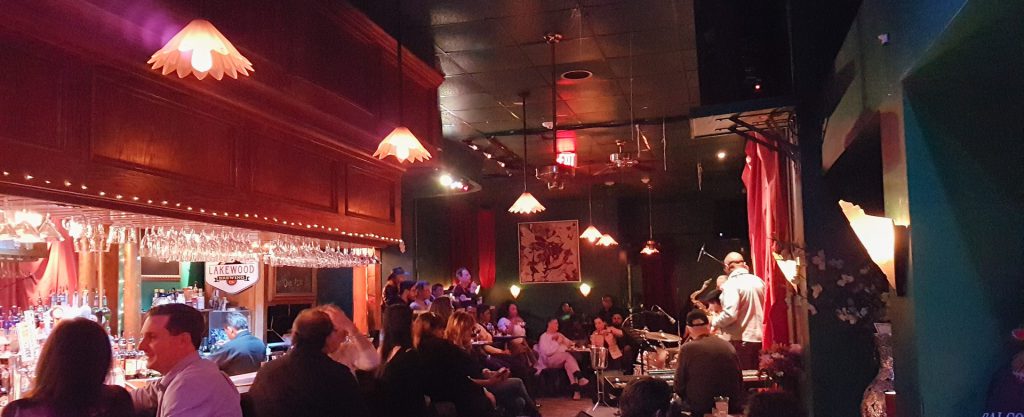 It's a short stop in Dallas though and we are on the road early to get to Littlerock, Arkansas by lunchtime so its off to bed in our luxury (not – but at £35 you don't expect much) motel on the motorway.