We met some amazing people waiting in that queue for the better part of 4 hours. Some had been there many times others were Franklin virgins like us. At 08:00 the staff came out and told us breakfast tacos were now available. Served from an old Airstream trailer, they offer choices of chopped brisket, chorizo or patty sausage with your choice of fillers including eggs, hashbrowns, cheese, refried beans, guacamole. We went with the 'ladies choice' option consisting of brisket with hashbrowns, cheese and guacamole with tomatillo salsa. They were the perfect start to the day! Surprisingly light and fresh with homemade tortillas.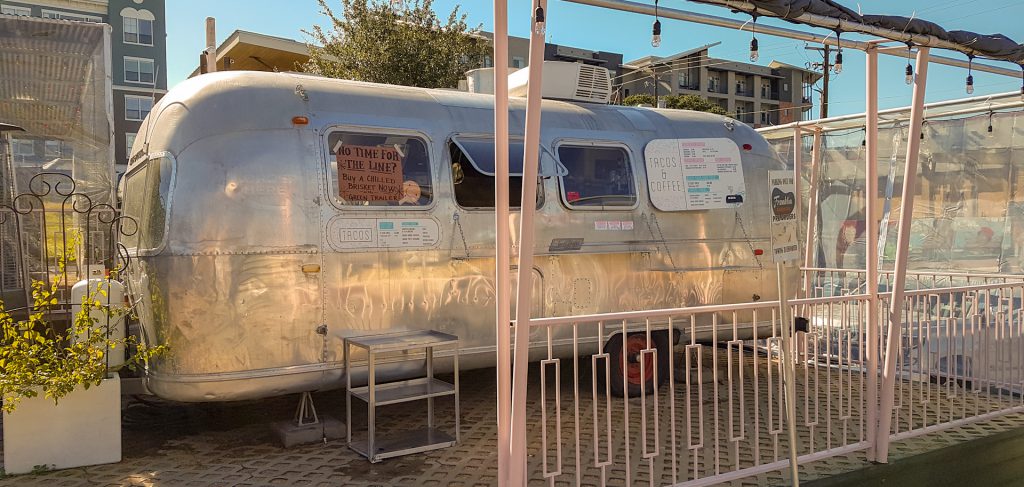 The crowd began to come alive about 10:30 as opening time of 11:00 drew near. All the chairs were put away and people began to get excited about the food to come. At 11:00 on the dot they opened the doors and we began to file in. It truly was quite an exciting environment — I think we all had the same thought though — please let the food be worth the wait!!
Side note: We did NOT need to be there quite as early as we were. 08:00 would have been sufficient — that goes out to Adrian.
As you first enter the restaurant you are immediately surprised by how small the place is on the inside. There are about 14 tables seating a mere 35 people inside with another 5 picnic tables on the deck outside.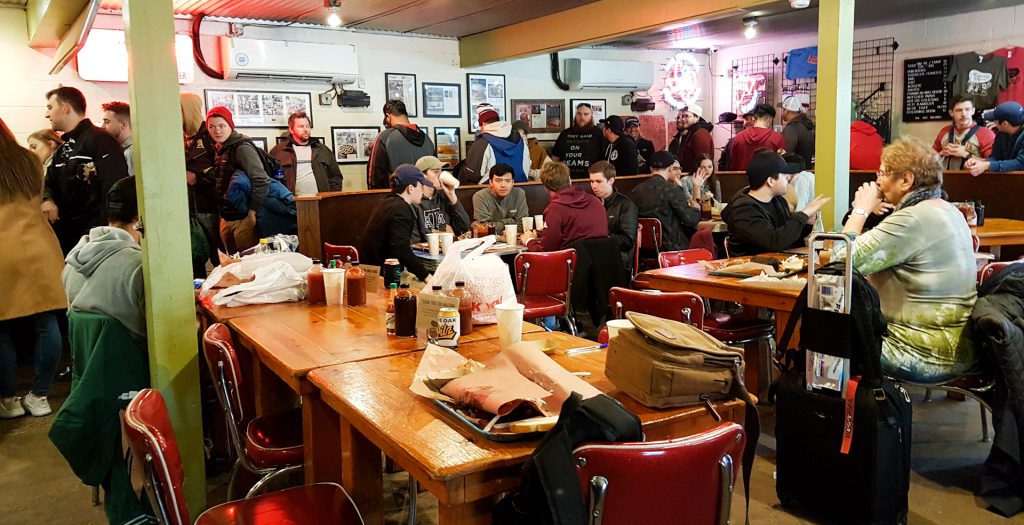 This is despite the block long building. Of course, that is all due to the five rather large smokers that take up more than half of the building!
You walk past the merchandise section up to the menu on the wall. In classic BBQ style, its just handwritten on pink butcher paper.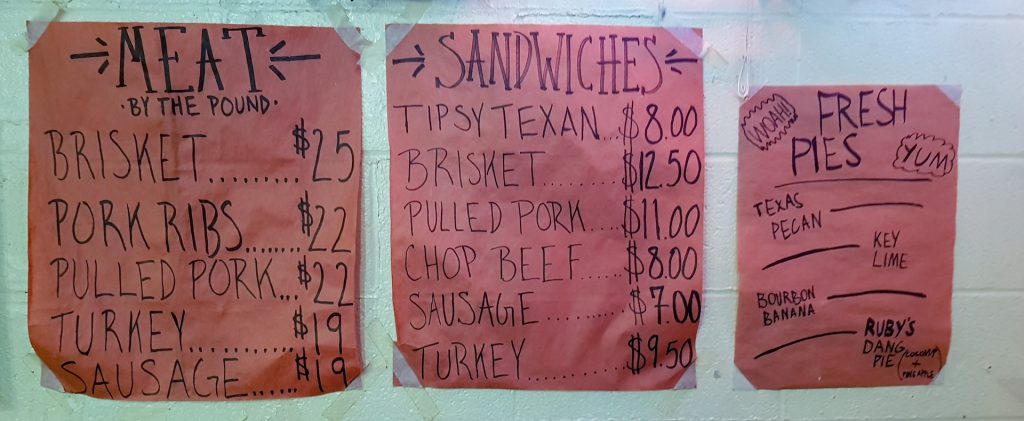 As you arrive at the counter and watch them preparing the food for the people in front of you, you suddenly forget what you have spent the last four hours working our and end up deciding you want to try everything and proceed to order enough food for most of the queue.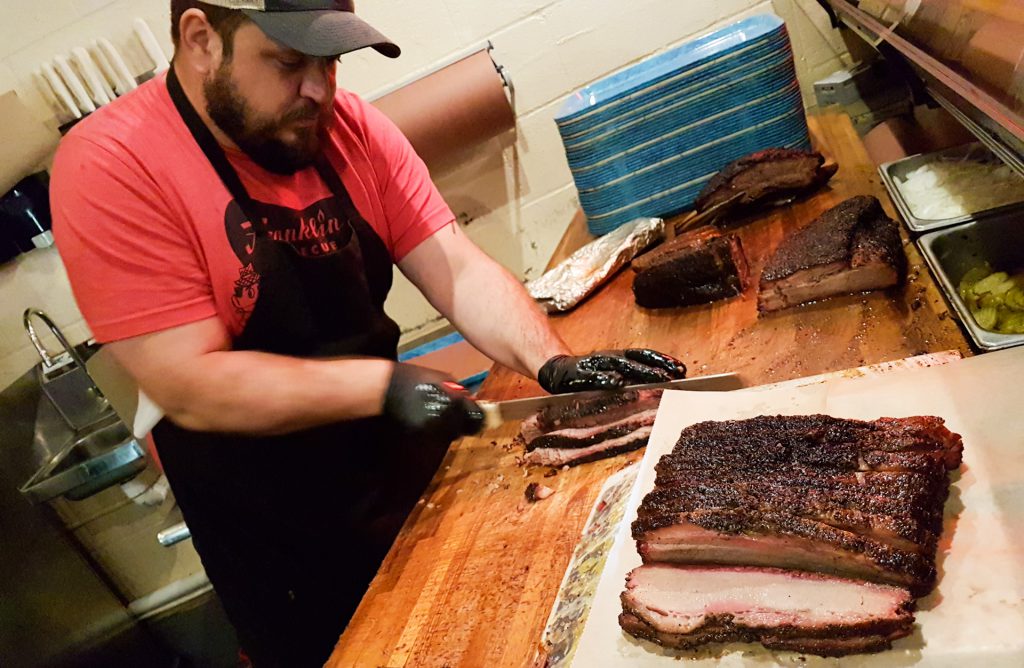 We take our tray of almost 8 lbs. of meat to a table to begin the carnivorous action of lunch at 11:30 in the morning. It is all served no-frills on butcher paper on a lunch tray. Plastic cutlery and more butcher paper as 'plates' round it all out. You help yourself to onions, sauce and pickles with loads of Wonder® bread included.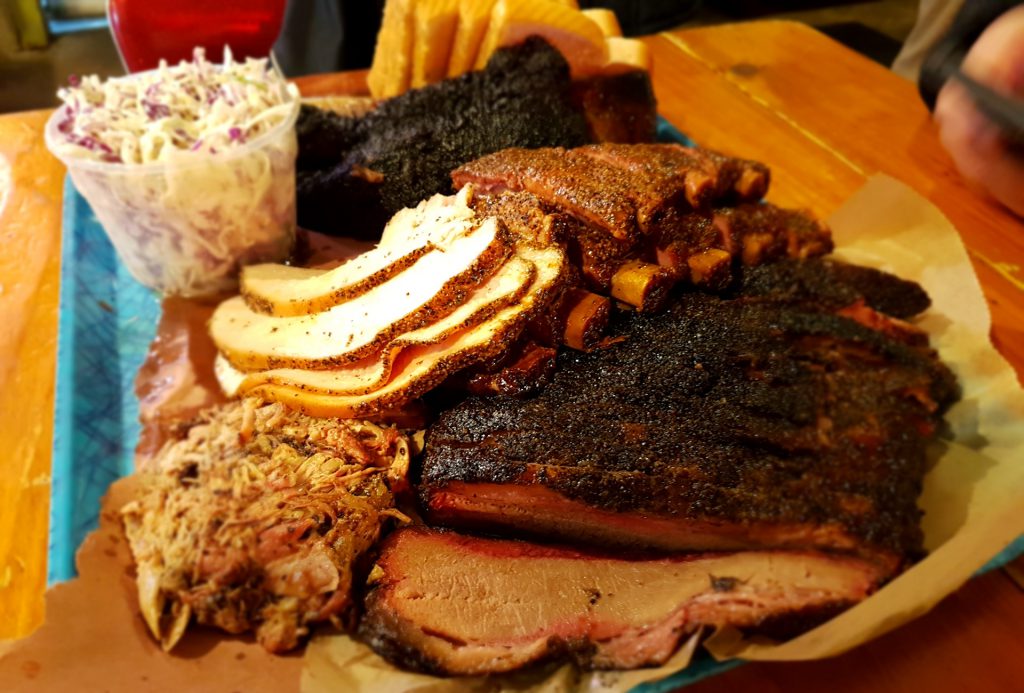 There is a certain quiet that comes over the place as people get their long awaited food and sit down to devour it.
The food is good, but not what we expected. The brisket is much fattier that we get in the UK and the seasoning is very strong with chunks of cracked black pepper–its a bit overpowering. The beef rib, however, is absolutely amazing. It has a really strong beef flavour and much less pepper than the brisket.
After we finished our food we asked one of the hosts if it would be possible to get a look at the pits. They were happy to oblige. We were asked to wait for a few minutes on the deck by the employee door. About 10 minutes later pitmaster Andy met us and apologised for use having to wait.
He took us in back to see the pits. They have five massive metal tube pits with a large firebox on the end. These units use air draw to pull the heat down the full ~20 foot length. They use nothing but post oak going through more than two cords of wood each day.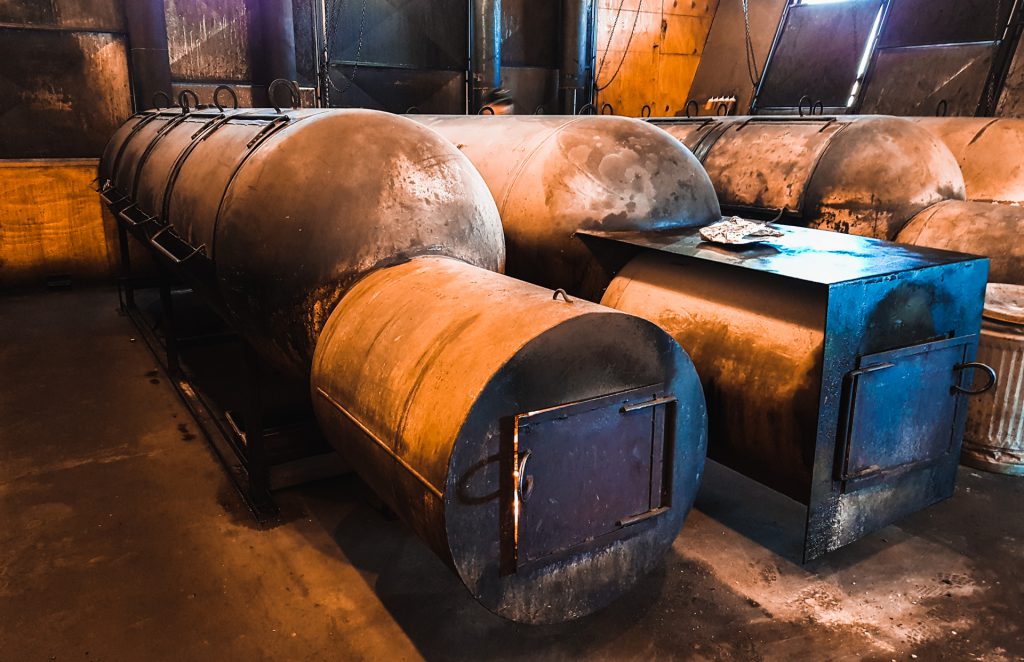 Andy has been a pitmaster at Franklin's for more than eight years now. He was more than happy to talk to use about how they keep the crowds happy. They do a simple trim and coat the brisket with a heavy dose of salt and pepper cooking around 120 briskets every day (slightly less on less busy days). They put them on 11:00 each day and take them off at around 01:00. They go onto racks in the smoke room to rest. After resting they get put in the hot box out front waiting to be served. Ribs go on after the brisket comes out as does the turkey and sausage.
Franklin BBQ is well worth a visit. The staff were extremely helpful and friendly keeping a regular check on the queue to make sure everyone was okay. The place had a nice ambiance and the time spent in the queue, despite the cold, was enjoyable. We met some great people. It is easy to see where Franklin's reputation comes from.