Lockhart, TX
While Kreuz Market goes back to the late 1800's, the site we are visiting has only been around since 1999. Family issues led to the original Kreuz Market being renamed Smitty's Market and Kreuz Market opening up in new separate location. (Check out the history on their site.)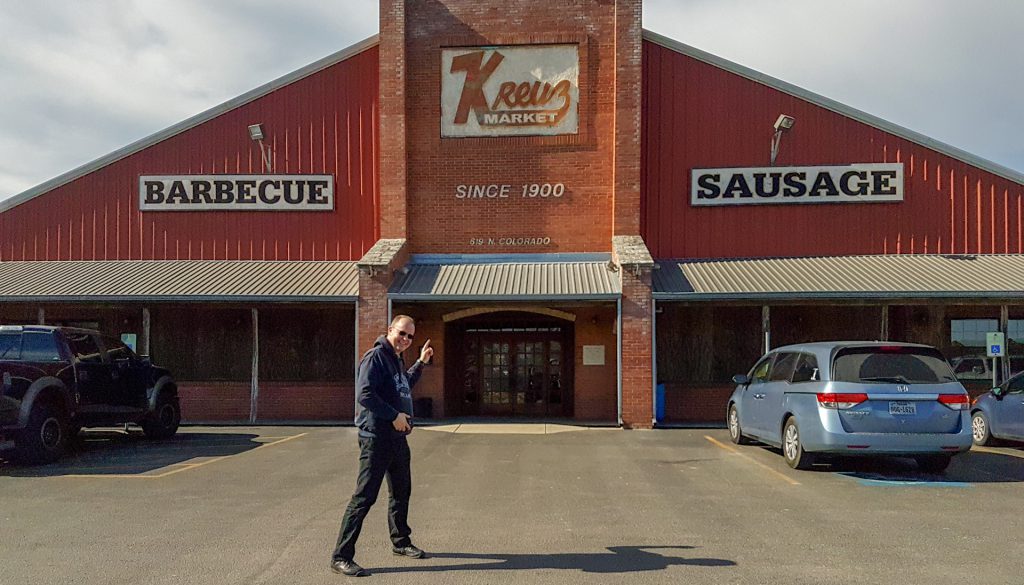 This place is massive. There are two separate dining rooms, one with a stage for live music in addition to the smokehouse area and the large prep area. These guys are set up to deliver in quantity!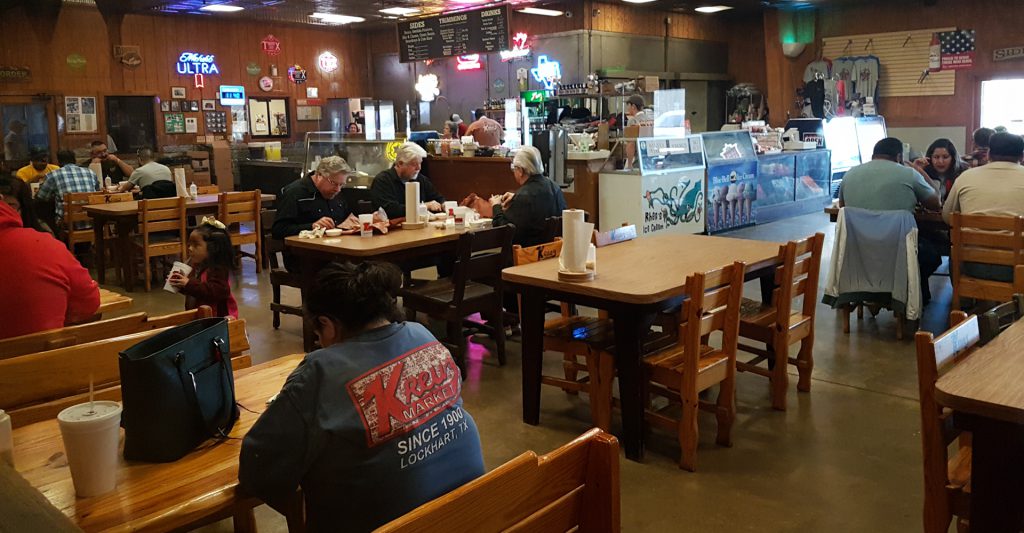 We got the chance to speak with Plant Manager, Jason about how it all works. He showed use all the pits they use which was great but then took us through the entire operation. We got a chance to see it all from incoming meat to prep and marinating to sausage making, pre-cook phases, storage and shipping.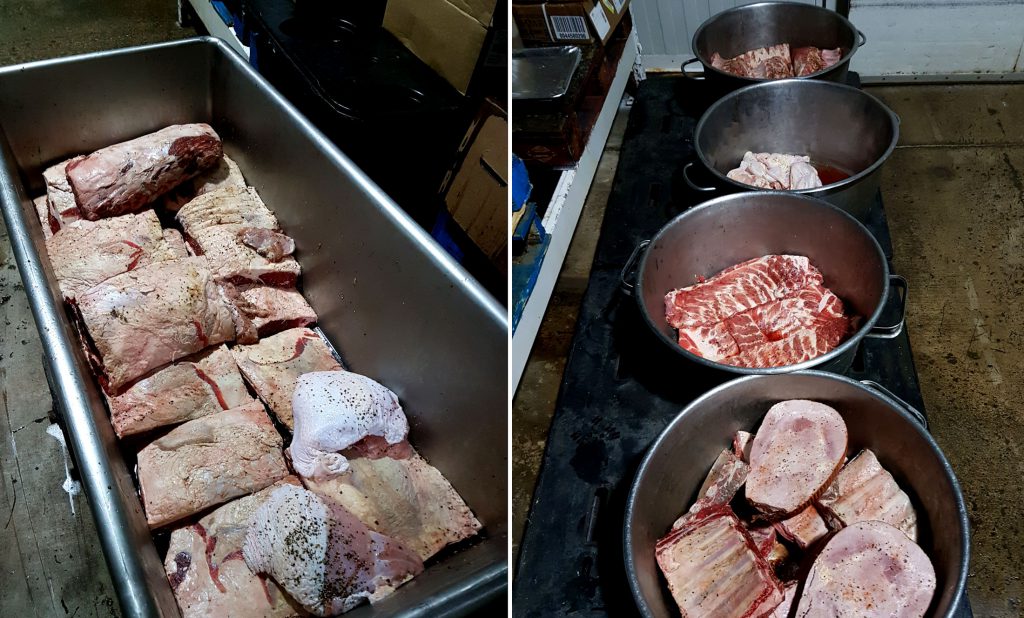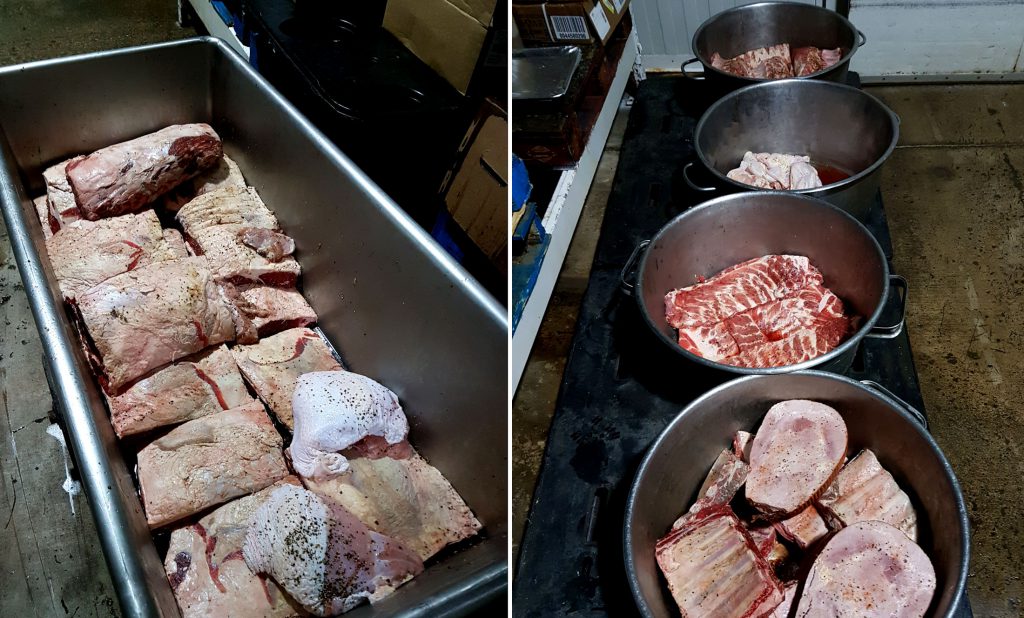 It is quite the operation they have going — but they need it to keep up with the volume providing sausage to restaurants throughout the USA and with direct sales to consumers across the country as well.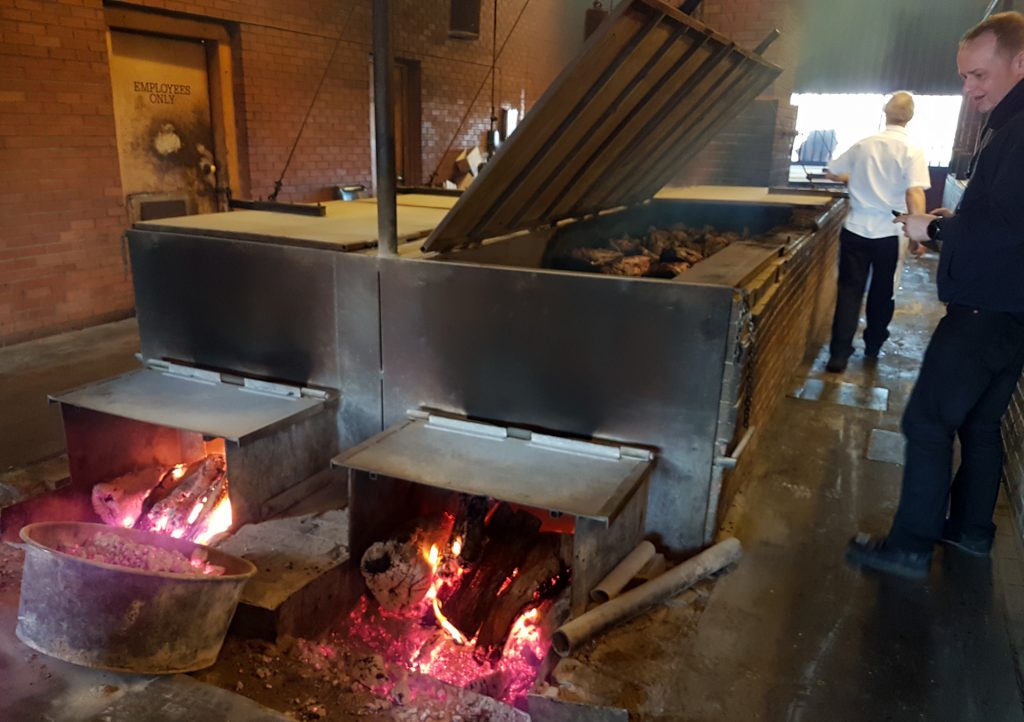 Kreuz uses indirect heat wood-fired steel-lined brick pits for most of their cooking. Their sausage is cooked separately in a large vertical cabinet smoker with an external firebox and oscillating air system. They use simple salt, pepper and cayenne rubs on all their meats (and in their sausage). Briskets are rubbed and allowed to marinate a full 24 hours before being put in the pit. They cook much of the meat to about 60% before pulling it to set and put it back in the pit in the morning to finish it off — they don't run a night shift here.
They cook with only Post Oak which they season on-site for a minimum of one year before they use to allow it to mellow. Their wood pile is quite a sight to see! It's pretty much the size of a football pitch.


After our tour we settle in to sample the barbecue on offer. They have a different menu than we have seen so far. They have the expected beef brisket and pork ribs, but from there the menu makes a big change. They offer beef shoulder, boneless beef prime rib, pork chops, turkey and ham — and of course, sausage. No pulled pork to be found here.


They don't bother with sandwich offerings. You just order the type and quantity of meat you want and they serve it up with bread and a wide range of sides. They pull the meat straight from the pit and chop it up on 100-year old round butcher blocks while you watch.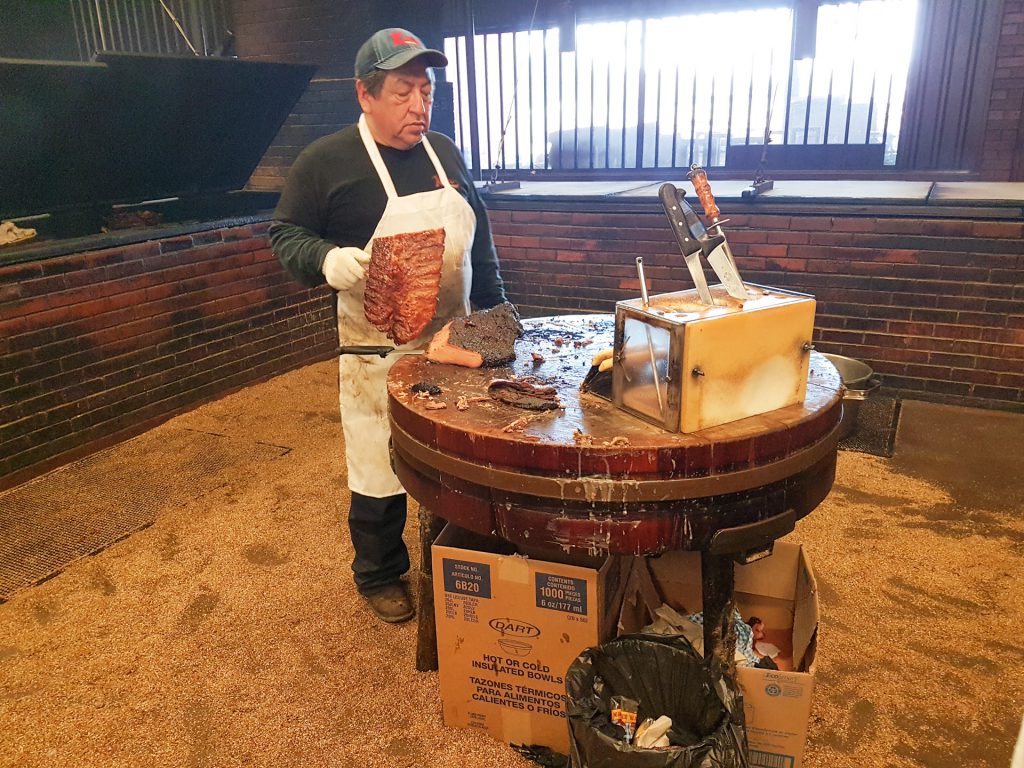 We decided on beef brisket, beef shoulder, prime rib, ham and sausage. Like most places in Texas, there are no plates, just sheets of butcher paper. It is all served up with thick slices of ButterKrust bread. Sauces are strictly optional.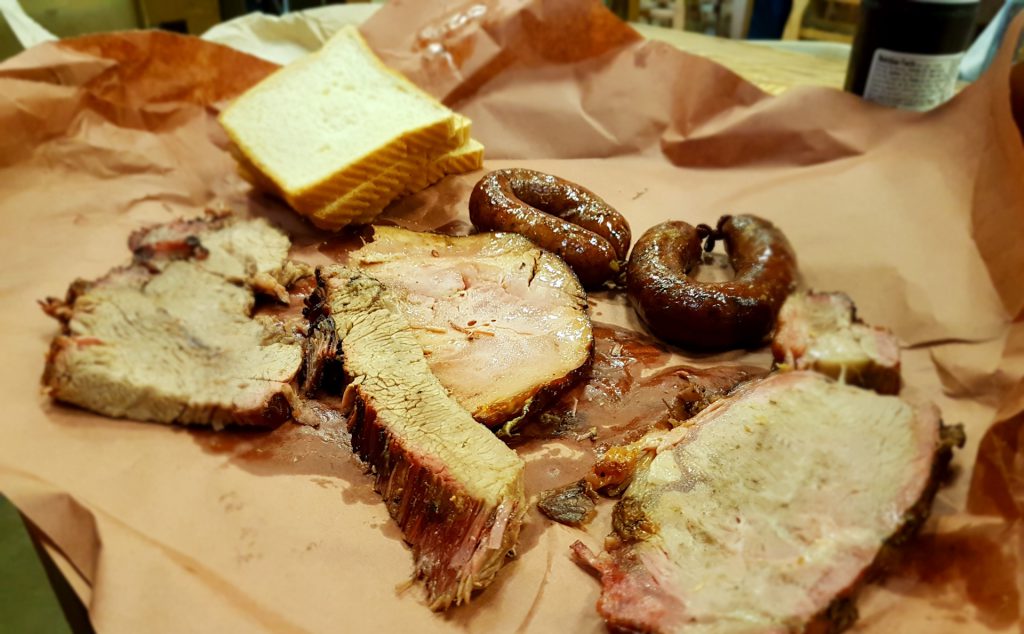 So you move from the pit area into the dining area and select your sides. It's a big decision — green bean, sauerkraut, creamed corn, mac 'n cheese, pit beans, potato salad — the list goes on. Then its pickles – four kinds – and jalapenos. We've kept it simple and gone for creamed corn and potato salad.
You look around the dining room and you see a broad mix of people. From obvious salesmen in suits to families with lots of kids to young couples and individuals – all brought together by good food and a great experience. Though opening in 1999, you would think you were in 1930's Texas. Basic tables, simple country design and friendly staff. It's what you want from a barbecue joint. There are no fancy table cloths, pretty menus or pretentious decorations here.
We settle in to try out the food. The brisket is trimmed as its served so the meat is very lean; none of the fatty portion we got at Smitty's. There is not much smoke ring (nor smoke taste). Due to the trimming there is also not really any bark so the seasoning is quite mild. It is nicely beefy but a bit on the dry and tough side.
The beef shoulder tastes like a nice Sunday roast. There is not really any smoke flavour at all. The prime rib doesn't really delivery either. The sausage are the best items here. Both varieties have a nice snap and good flavour.
We have to hit the road now to get to Dallas for our next stop where we are meeting up with an old friend and work colleague.
Our thanks go out to Jason and all the staff at Kreuz Market who were amazingly friendly and made our visit a truly memorable one.!