Well its our final day on this BBQ road trip. We have two final places queued up: Joe's Kansas City BBQ and Jones BBQ, both in Kansas City, Kansas.
Joe's Kansas City BBQ
We're headed out early as this place stays open until they run out. We want to be at the head of the queue so we are out the door by 09:30 planning to be in line at 10:00 for the 11:00 opening.
Joe's started out life as Oklahoma Joe's with many people still knowing it under that name. It was started by Jeff and Joy Stehney and Joe Don Davidson (founder of Oklahoma Joe's Smoker Company), thus the original name. Joe is no longer part of the team, but Jeff and Joy still run the place. And they have quite some pedigree in the BBQ world having taken Grand Champion or 1st place at the American Royal nine times, four trophies at Jack Daniel's World BBQ Championship, KCBS Team of the Year and many more. We're excited to try this place!
There are already a few people in the parking lot when we arrive a bit after our planned 10:00 arrival. After about 20 minutes of waiting, a few people are venturing out of their cars to head to the door. We get out of the car to join them expecting to wait in a queue at the door, but the door opens and the manager says, "come on in, we're open." It's actually only about 10:45 but I think he takes pity on us given the cold (15° F / -9° C).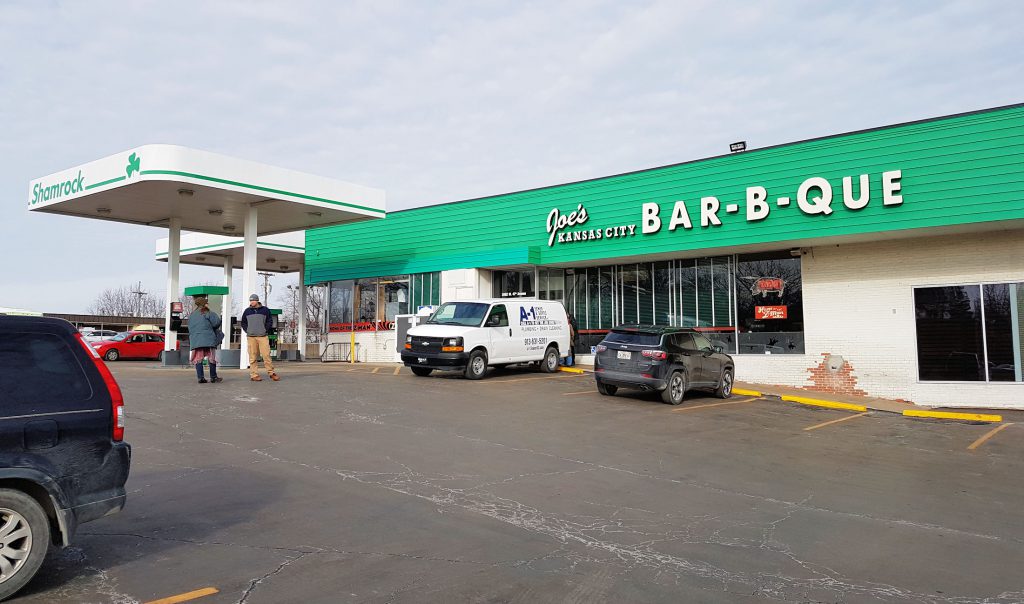 There is one couple in front of us as we go in, but before we even get a chance to order there is a line from the counter all the way out the door. Within 20 minutes the restaurant is completely full with a line out the door. This is the most popular of the spots we've been to in KC so far.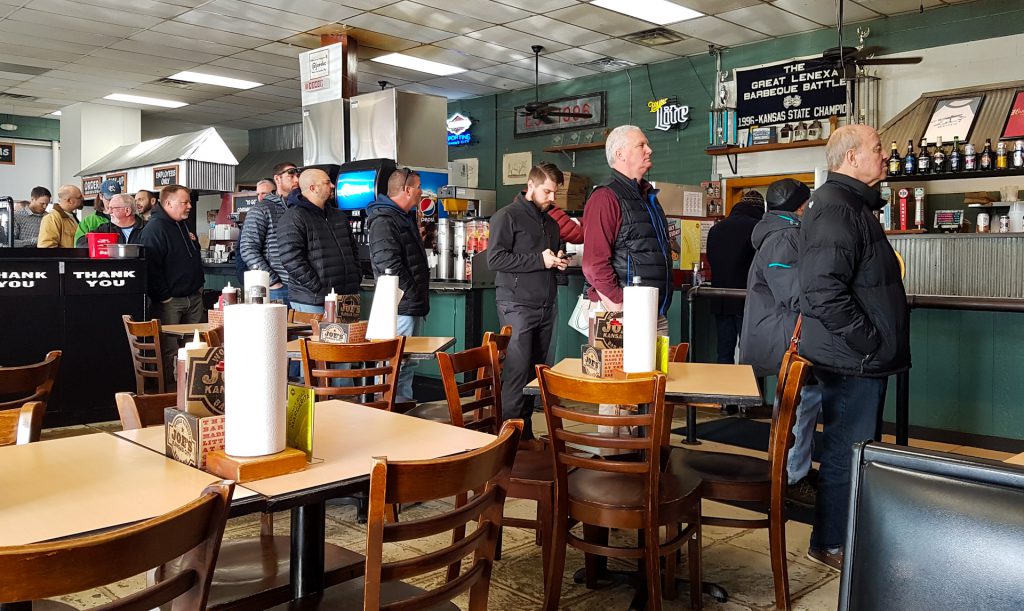 This is not a game day, so it's a bit surprising to see such at crowd at 11:00 on a Thursday. Let's hope the food is worth it!
We order up a range of items as has become our norm — brisket, pork, ham, burnt ends and ribs. We got to our booth and settled in for the tasting. I pull out my notebook and we start taking notes. This catches the attention of people around us quite quickly. We have a lovely conversation with a couple that is up from Whiteman Air Force Base (about an hour out of KC) talking about our trip and the blog.

After we finish up our tasting — we've learned never to eat like its a meal now — I head over to the manager to see if we can get a look in back. His first response was his pitmaster wasn't in and they were quite busy (both true) but I persist telling him about our trip. Suddenly he says, "wait just a minute", and he brings back Doug Worgul, Director of Marketing at Joe's and a bit of a barbecue legend himself.
Doug takes us on a full tour giving us the history of Joe's along the way.
These guys use the typical low 'n slow method cooking ribs for 4-5 hours and brisket and pork butt for around 15 hours. They use Ole Hickory (made in Cape Girardeau, Missouri) and Southern Pride smokers. They are gas assisted wood-burning smokers, pretty typical in the BBQ restaurant world.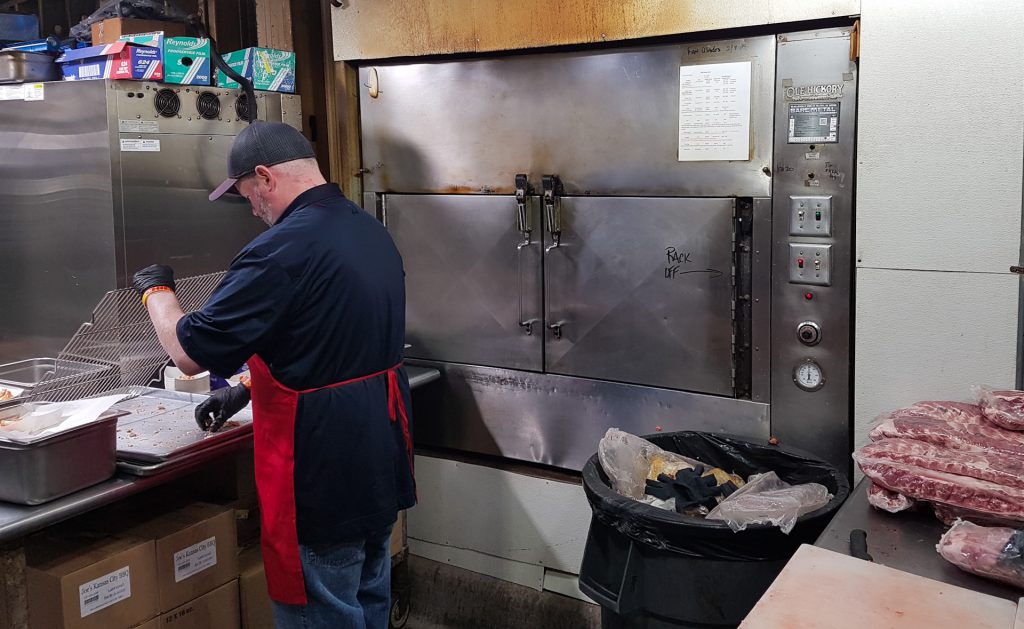 We didn't talk quantity, but with the quantity of pits they have and the number of ribs we saw them preparing, it's clear they churn out a lot of BBQ every day.

They use exclusively Missouri White Oak, a bit of a departure from most KC BBQ joints that use hickory as well. They have a different approach on the brisket as well separating the tip and the flat and cooking the tip along with the pork butts to use for their burnt ends.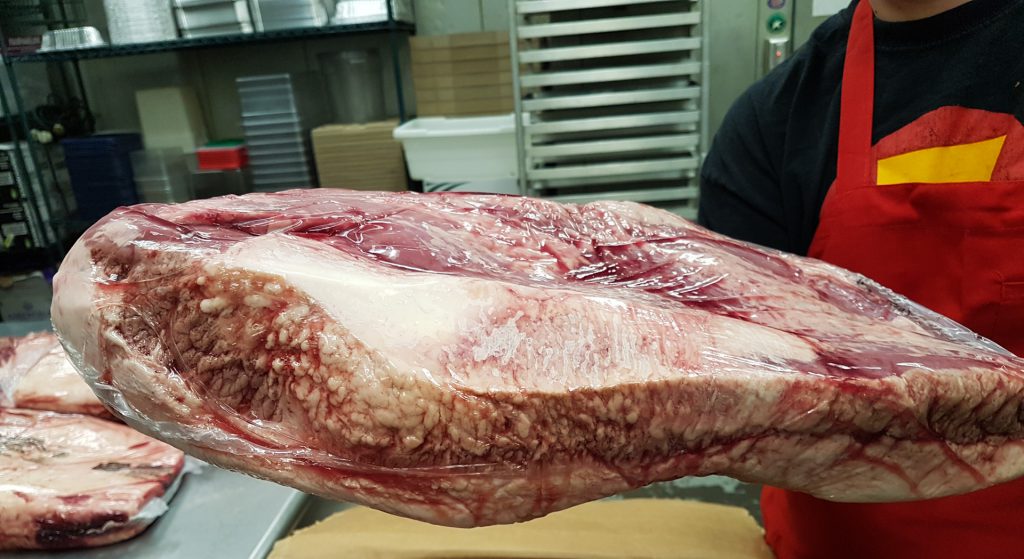 We struggle to get briskets as big and marbled as these. That marbling is essential to getting good burnt ends.
They use a complex mix of spices in their rubs with different rubs for each meat. This is very much the KC-style. Their sauce is definitely a KC-style sauce with strong molasses flavour and a sweetness to go with the heat.
Doug has been great taking us through virtually every aspect of their operation. We're going to have to pick up a couple of his books (he has written several).
We're off to a unique little place in Kansas City, Kansas that is not much bigger than a trucking container.
Jones Bar-B-Q
Jones Bar-B-Q is owned and operated by Deborah and Mary Jones. This is a tiny spot, originally a taco stand. It has no indoor dining space, just a few picnic tables in the parking lot of Woody's Happy Foods West in an industrial section of town next to the railroad tracks. These gals have been involved with BBQ since they were little girls, helping out their father at Hezekiah's on 10th Street in Kansas City, Kansas.
They've been in their current location since 2015. They recently had a makeover as part of Netflix's Queer Eye show who helped them with outfits, branding and getting their sauce manufactured (as well as personal makeovers to boost their confidence). This place is certainly unique as are the gals running it.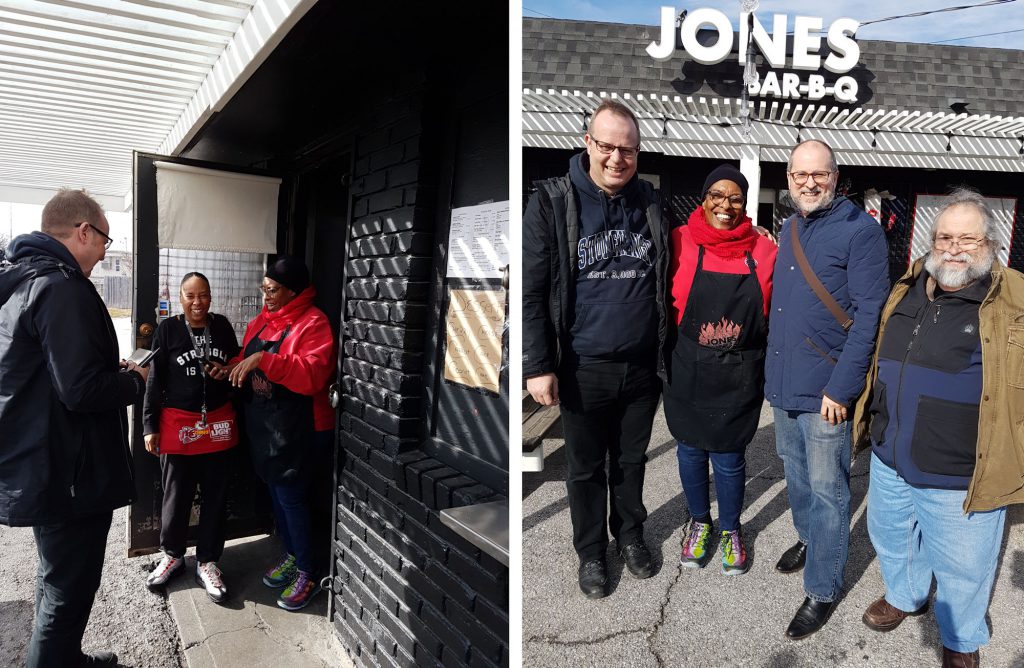 As soon as Adrian walked up to the window to order, they came running out from inside with their phone saying they had to have a selfie. These gals are amazingly friendly and clearly love what they do.
This place is definitely old school. They have a single upright wood-fired smoker that they bought second-hand at A-Lotta-Stuff, a thrift store nearby. They've done a bit of retrofitting to make it work for them.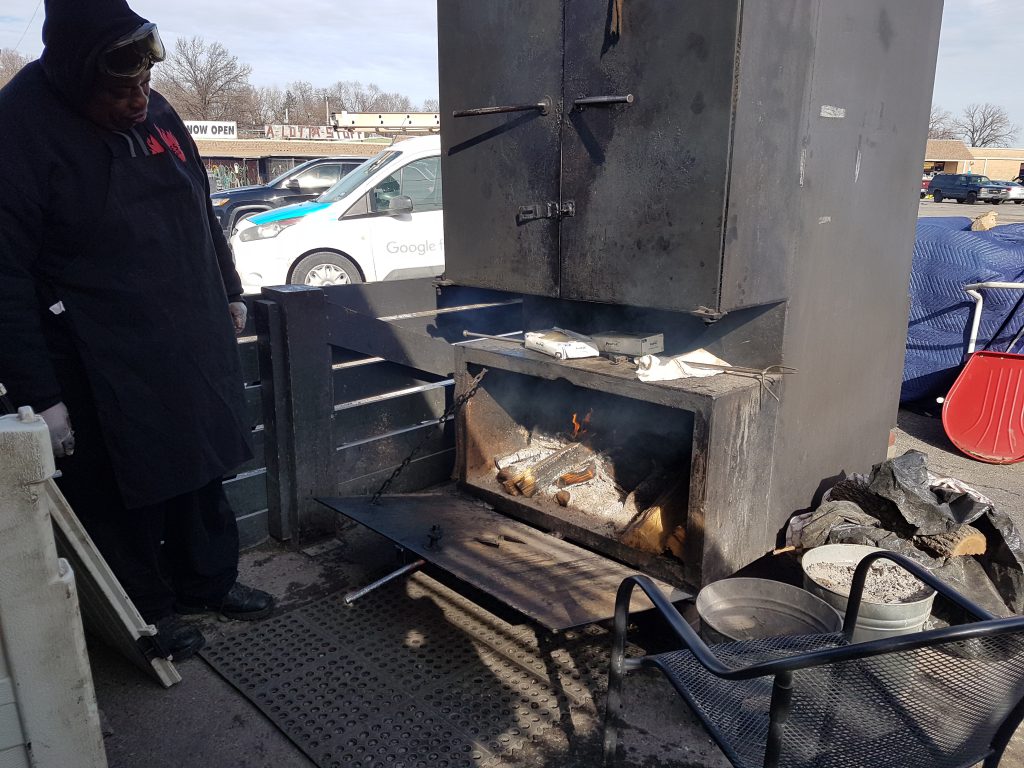 The food they serve up here is simple. The ribs are untrimmed and the meat is cooked by eye and feel, not temperature. Doug Worgul, who wrote about Jones in his book "The Grand Barbecue" says, "Our pitmasters are not pitmasters in the sense Deborah and Mary are. What our pitmasters do — which is critical to our operation — is really far less creative. Basically, they follow a procedure. It's not mastering barbecue; it's fulfilling that specific technique."
It's far too cold to even consider eating here today, so we are back to the car to unthaw and head back to mom's for the sampling.