Austin, TX | https://www.blacksbbq.com/
Black's is known for their massive beef ribs and that's what we were looking to check out. We arrived about 19:30 by taxi. There was a queue, of course, but only about 15 people — about 10 people inside and five outside. We get down to 12 people when someone comes from behind us and hangs up a piece of butcher paper saying they were now out of chicken, pork ribs, and, of course, beef ribs!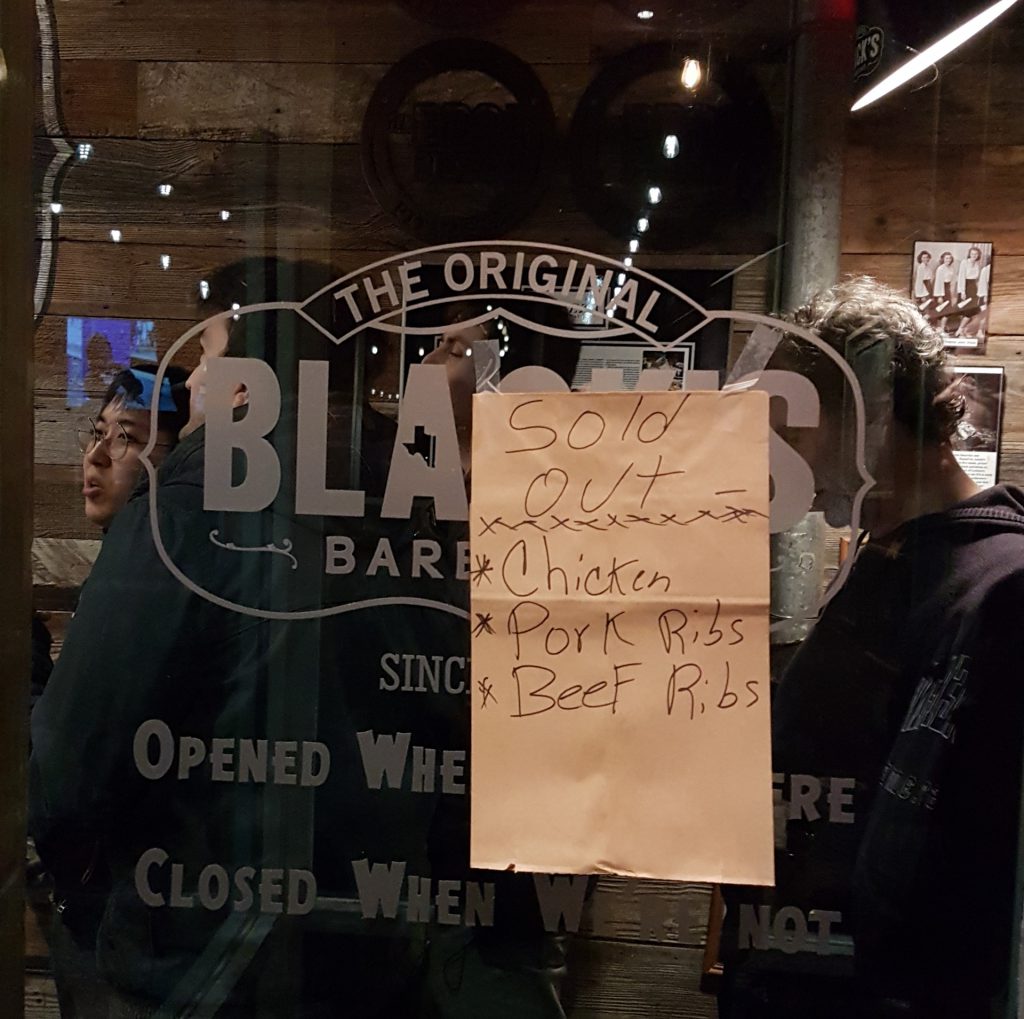 Once inside you could see why Black's would be popular. You have an amazing smell of smoke and a great ambiance. Brick and old barn wood walls, concrete floors, country music and American football playing on a big screen in the corner. It looks like you expect a BBQ joint to look. It was full of people chatting, laughing and having a good time.
We work our way up to the counter a bit disappointed but determined to enjoy it regardless. We decided on some brisket and pulled pork. Perhaps decided is the wrong wording — they had brisket and pulled pork left. We added on a few sides since we didn't have any meat options so we could feel like we were making choices. We ended up with sweet potato mash, pinto beans, potato salad and mac 'n cheese.

I was taken back to my childhood as soon as I tucked into the pinto beans. They were just like my mom makes – simply beans with some onion, garlic and I'm betting a ham hock for that smoky flavour. I loved them but felt the need for some cornbread and turnip greens. They definitely were not what you would normally think of as barbecue beans.
The mac 'n cheese didn't rate as high. You would really have to describe it as pasta with a nice cheese sauce. It was a bit too saucy with no crust at all.
The sweet potato mash was Adrian's favourite. It was smooth with just the right amount of butter and a bit of melted marshmallow. I enjoyed these as well but the were a touch sweet for my taste. They were a great compliment to the rich meats though.
The potato salad was a typical southern style with a mix of chunks and mash with some red onion and a touch of roasted red pepper. Mild in flavour with none of that mayonnaise gooeyness that many commercial potato salads have. It was good but there was no wow factor.
But the sides are nothing without the meat are they? So here we go:
| | | | |
| --- | --- | --- | --- |
| Meat Type | Appearance | Taste | Texture |
| Brisket | 7 | 7 | 8 |
| Pulled Pork | 6 | 7.5 | 8 |
They offered a nice selection of beers focusing on local and Texas brands and wine in an aluminum can with a monkey on the label simply called White Wine or Red Wine — no pretense here.
Tasting notes
Brisket
Nice level of smoke with a very basic bark – just a light touch of salt and pepper. The meat was a somewhat overdone but it was after 19:00 so that is not really surprising. The cut of the meat was more like we get in the UK with smaller, thinner slices. The meat had a nice beefy flavour without being too rich. The sauce complimented the meat nicely without overtaking it.
Pulled Pork
This had a nice, strong pork flavour with a goodlevel of smoke. There was a thin, simple bark (again just a light coat of salt and pepper) which added a perfect level of seasoning. There was obvious signs of smoke ring and the meat had a nice bite to it while still being tender. The main negative was in the serving of the meat — it was chopped up a bit too finely so there we very few pieces you could really sink your teeth into.
Overall a great experience; they made you feel welcome and want to go back.