From HB's we head to north-central Littlerock just off the banks of the Arkansas River. This place was started by an award winning team back in 2002 with a small food trailer in a parking lot. Not long after came the restaurant and now they have locations in Arkansas, Missouri, New Jersey and New Mexico.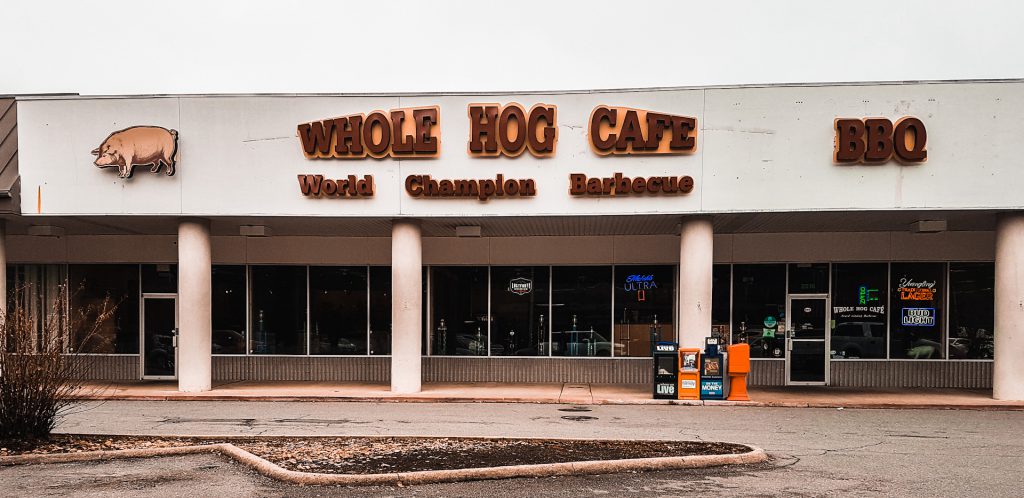 First impression isn't much. This is a tired looking place in an out of the way strip mall that does not ooze great food. But these guys have won a massive number of awards and are ranked in the top 50 in the USA so we'll see if the food speaks louder than the view.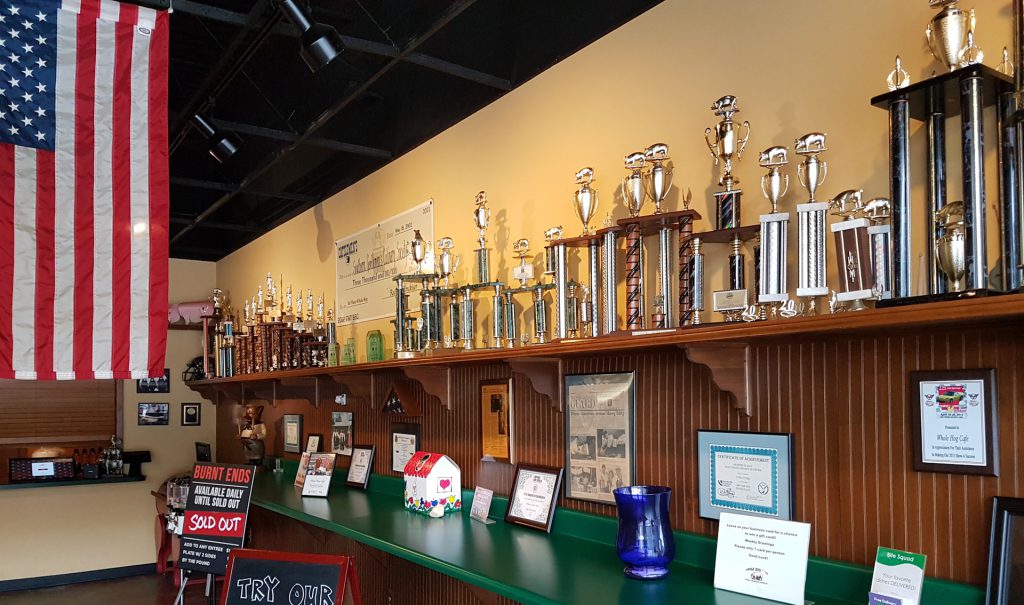 They don't put a lot into the décor. The inside is quite bland with lots of basic booths and little ambience. Outside of the many trophies — and there are a LOT of them — there is not much to the place. But we are here for the food not the ambiance.
Before I even get close to the counter I'm greeted and asked what I'd like to order. I've not even read over the menu yet so I have to ask for more time, feeling a little bit like I should have known already what I wanted. That feeling becomes stronger as two other people come in and rattle off their order without even looking up at the menu. They clearly have a following.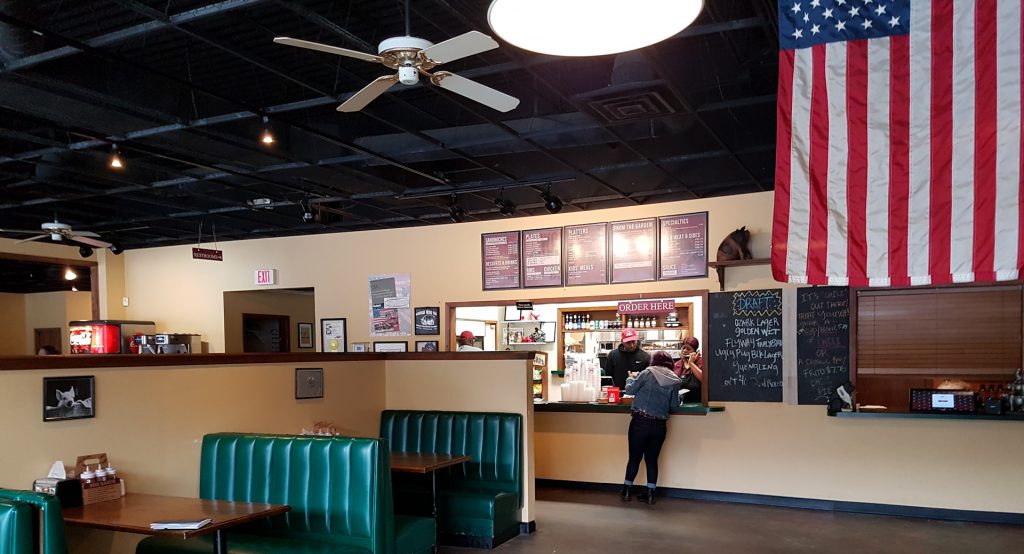 I decide on a 3-meat platter with brisket, pulled pork, pulled chicken and add on some ribs. This place has six sauces to choose from so I get three of those to try out. It's the first time where sauce seems to be considered a key part of the offering. We've just finished lunch at HB's so we get this to go and the sampling will have to wait until later!
We head to the motel (a step down from last night's but its clean and only £30 a night. It's time to try out the food from Whole Hog Café.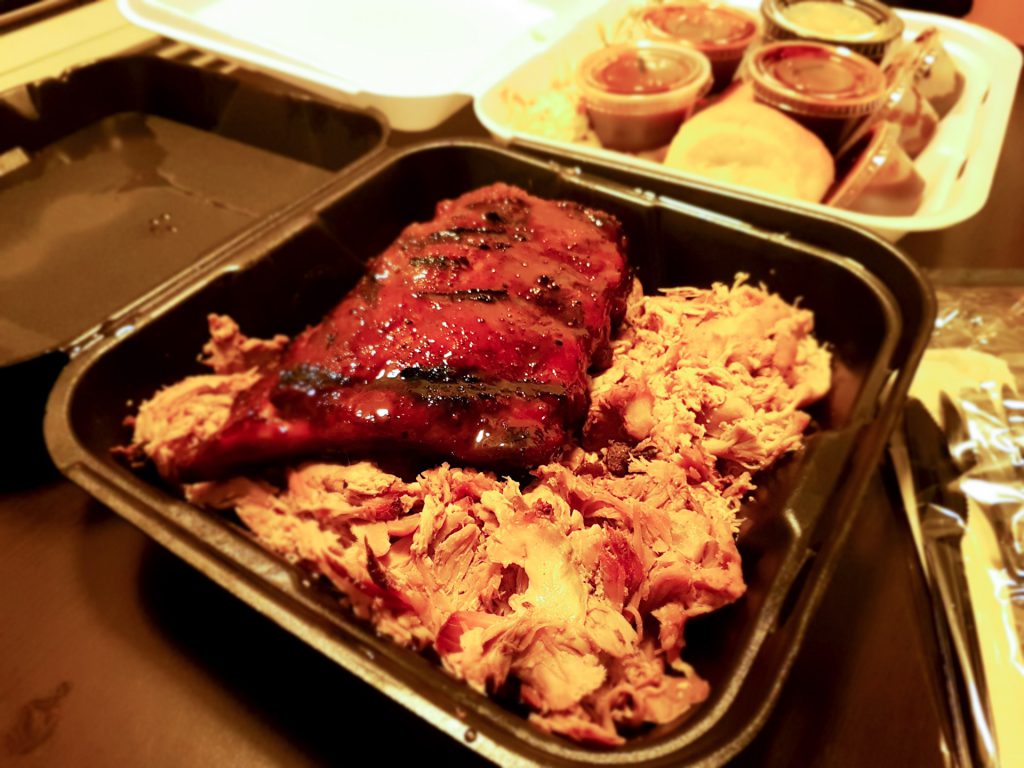 The pulled chicken was nicely shredded and tender without being mushy, but its chicken – there just isn't a lot of flavour there. The pulled pork was nice enough though a little chewy. We found both the beef brisket and the ribs to be on the chewy side. Quite average, not what we were expecting.
We're beginning to reach of limit of barbecue so we decide to find a place to get a drink and some dinner that does not include BBQ sauce and end up at TGI Friday's. Not exactly a great option, but its walking distance from the motel. We both end up ordering salads as we couldn't bear the idea of more rich meat.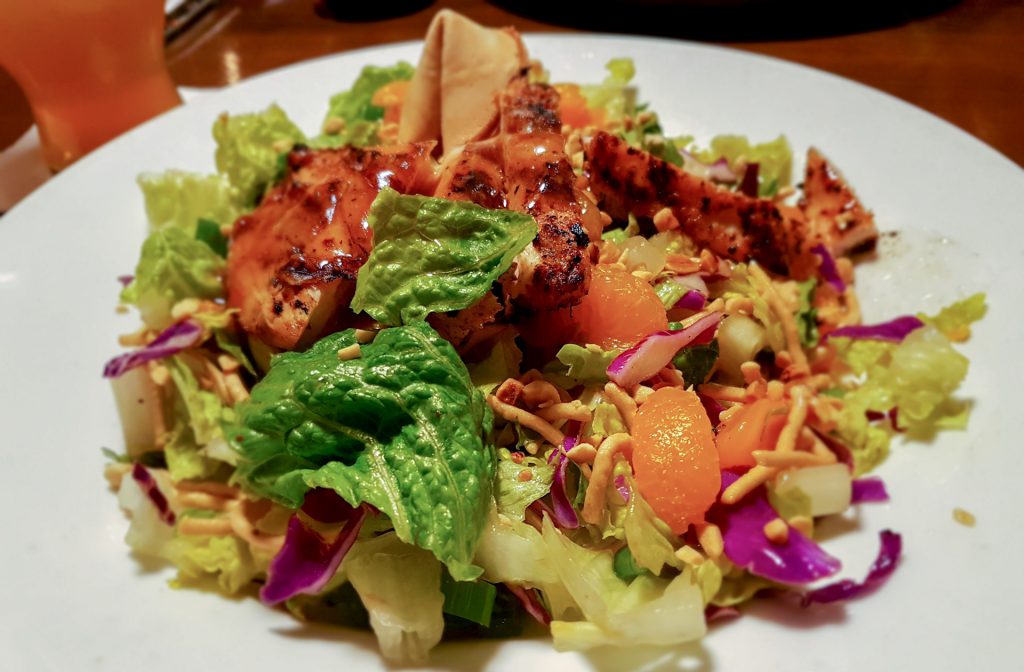 A Chinese salad with grilled chicken proves the perfect choice. Its back to the motel to work on the blog for a bit and then to bed — another early morning on the road tomorrow as we head into Missouri and on to Kansas City.