I've always found a brioche bun to be a perfect compliment to pulled pork. Getting good brioche buns has always been a problem though. An excellent recipe may well have solved that.
We came across a YouTube post mentioned by Bunch of Swines on their Facebook page. It's a bit different than most brioche recipes. Much less butter and the addition of Tangzhong.
Tangzhong is a Japanese technique where you cook a small portion of the flour and liquid (water or milk) briefly before combining the resulting thick paste with the remaining bread ingredients.
This technique breaks down the starches in the flour allowing them to absorb more water. It can allow the flour to absorb twice as much hot water or milk as yeast dough normally does. And it is able to hold on to the extra liquid throughout the kneading and baking processes. This means:
The dough is less sticky and easier to knead;
The dough is likely to rise higher, due to more water creating more internal steam;
And since it retains more moisture during baking, the bread is moister and stays soft and fresh for longer.
The YouTube post is well done and very informative, but doesn't give you an actual recipe to follow — you've just got to watch the post. I've put together this recipe from the post by Joshua Weissman :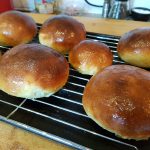 Best Burger Buns Ever
These light, buttery buns are a perfect match for burgers, pulled pork or for the best ever bacon roll.
Ingredients
Tangzhong
2

tbsp

bread flour

2

tbsp

water

4

tbsp

whole milk
Brioche dough
1/2

cup

whole milk

at 95° F

1

tbsp

instant yeast

9 gm

2 ½

cups

bread flour

1

tsp

fine sea salt

2 ½

tbsp

granulated sugar

1

whole

egg

at room temperature

1

egg yolk

3

tbsp

unsalted butter

softened
Egg wash
1

egg

splash

whole milk

1

tbsp

water
Instructions
Tangzhong
Put the ingredients into a sauce pan and whisk together.  Put on a medium heat and whisk constantly until it reaches a thick paste. Only takes a few seconds to reach a choux pastry-like consistency. Put into a bowl for use later.
Brioche dough
Heat the milk to 95° F and stir in your yeast. Let stand for about 8 minutes.

Combine the flour, sugar and salt in the mixer bowl and give a good mix.  Put on your dough hook and put the bowl on the mixer.  Put the mixer on a low speed and add the yeast mixture letting it mix for a few seconds.

Now add the tangzhong paste followed by the egg and egg yolk (best if at room temperature, not chilled).  Increase the mixer speed slightly (remain below medium) and mix until thoroughly incorporated. Scrape down the sides as required.

Add the softened butter one tablespoon at a time allowing it to incorporate before adding the next tablespoon.  Continue to let the mixer knead the dough until all of the butter is incorporated and the dough is nicely smooth. Expect this to take about 10 minutes.

Take the dough from the mixer bowl put it on a lightly floured board. Gently stretch and fold it in from each edge to make a nice ball.  Pull from one edge and then rotate 90 degrees and continue for two rotations. Turn the dough over and gently pull the dough toward you keeping it in constant contact with the board to fold it into itself. Rotate 90 degrees and keep doing this until you have worked it into a nice ball shape.

Put into a bowl lined with lightly greased baking parchment and cover with a damp towel. Place in a warm area for 1 to 1½ hours to rise, until doubled in size.

Punch the dough down and put in on a lightly floured board.  Divide the dough into six even pieces using a scraper.  Each piece should weight about 105gm.

As before, gently pull and fold each piece of dough into the center creating a ball.  Put onto the board and pull the dough across the board (keeping the dough in contact with the board always), turn 90 degrees and repeating.  Do this four times until you have a nice tight ball of dough.

Place the dough on a lightly greased baking parchment in a baking tray giving plenty of distance between each ball (at least 2 – 2½ inches).

Place a lightly greased piece of baking parchment over the top and cover with a damp, warm towel. Allow the dough to rise in a warm location for 1-2 hours until doubled in size again. 

Brush the dough lightly with the egg wash. Bake at 350° F for 16-18 minutes until a deep golden brown. If the tops start to become too brown, then covert with foil.

Place on a wire rack to until completely cool and then wrap in cling film or foil to keep fresh. Use within two days or freeze immediately.
Recipe Notes
In my first effort with this recipe I found the buns browned too quickly.  I've watered down the egg wash slightly and reduced the oven temperature by 25 degrees.  I covered them with foil at 11 minutes to stop them browning further.
I also found the buns to be a little bit dense.  Now you want a certain level of density to handle the juicy burger and sauces, but this could be a bit lighter.  I believe the key to this will be to do use smaller portions and let them rise longer to the desired size.  The extra rise should ensure a lighter texture.
But how did it come out? Was it a perfect burger bun? Despite the recipe notes above, they were still really good. Have a look: