Austin, TX | https://franklinbbq.com/
More than four hours waiting in the queue in the cold. Was it worth it? I have to say that is a bit subjective. Was the food good? Yes it was.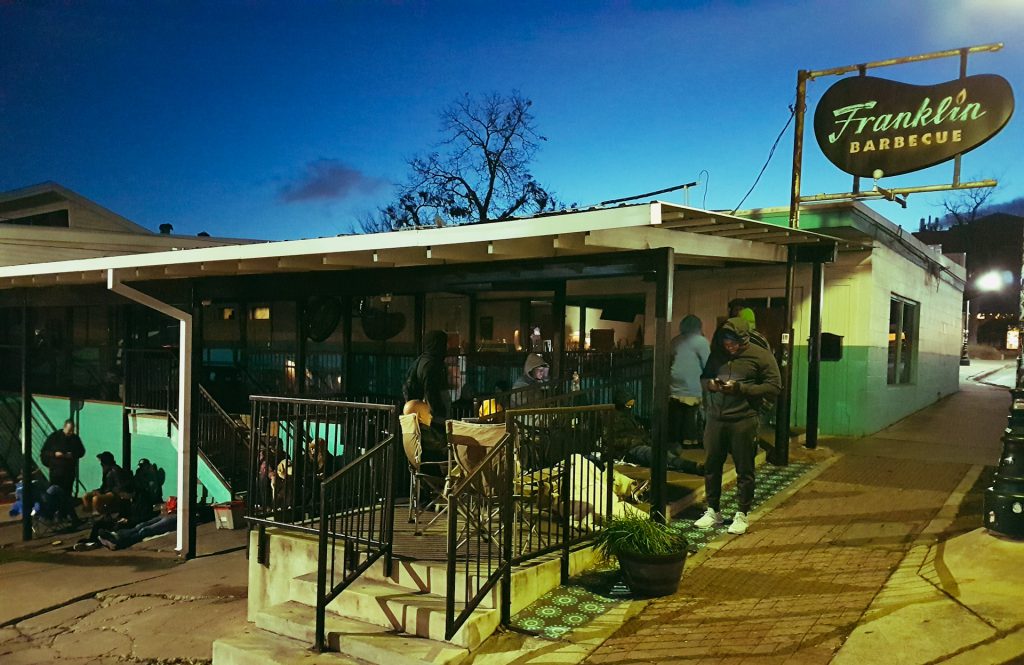 How did Franklin's score on our scorecard? Here we go:
| | | | | |
| --- | --- | --- | --- | --- |
| Meat Type | Look | Taste | Texture | Score |
| Brisket | 7 | 7 | 6 | 26.86 |
| Pork Ribs | 6.5 | 6.5 | 8 | 27.71 |
| Beef Rib | 8.5 | 9 | 8 | 34.58 |
| Pulled Pork | 7 | 6.5 | 7 | 26.85 |
| Turkey | 7 | 6 | 6 | 26.86 |
Tasting notes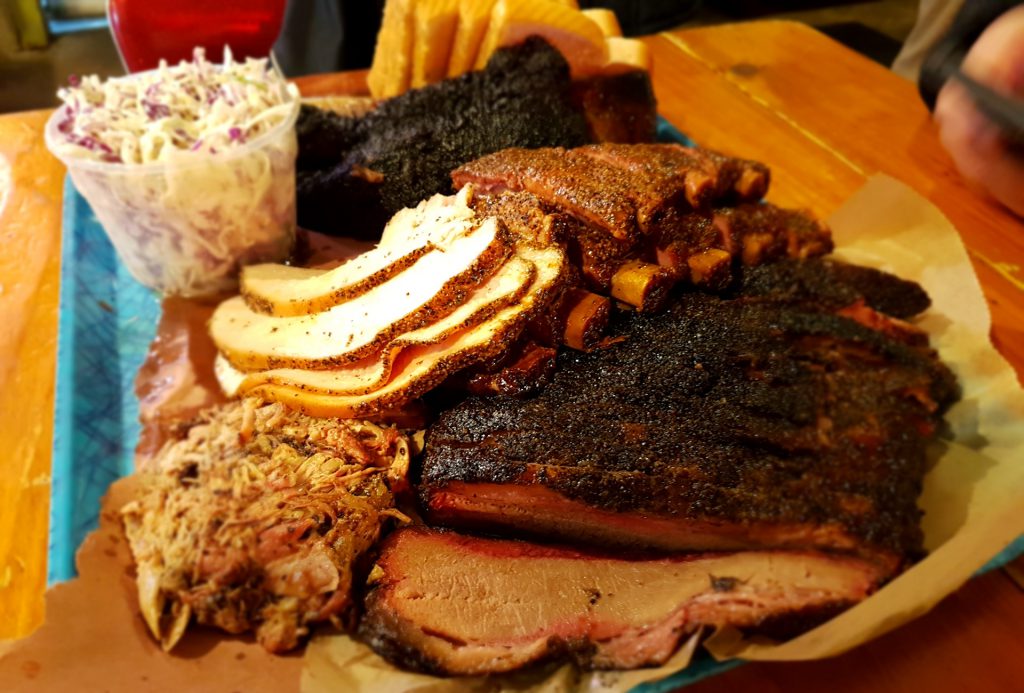 Brisket
We found the brisket a bit fatty and wet with no crust resulting in a greasy texture. There was only the smallest of smoke ring with no smoke penetration at all on the fatty side. The biggest issue for us was the very strong black pepper coating. It resulted in hiding the any real beef flavour and left you with very little smoke flavour as well.
That said, it was good. We are comparing against a European flavour profile perhaps. It was very tender. Comparing to BBQ restaurants rather than competition, it was very good indeed. It is easy to see why this is one of the top places in Texas.
Pork Ribs
The pork ribs were very wet and a bit oily. They had a good bite but perhaps could have benefited from a slightly longer cooking time. The ribs had more smoke flavour than the brisket but it was still subtle. And as with the brisket, the ribs were very peppery.
The ribs were trimmed nicely and were enjoyable to eat. They did benefit from a bit sauce to bring out the flavours.
Beef Rib
The beef rib was outstanding. Tons of beefiness. Crunchy bark (without the strong pepper of the brisket). A single rib came in at 1.3 lb – almost a meal for two by itself. It was wonderfully rich with a good texture combining that crunchy bark and the almost creamy inner meat.
Pulled Pork
The pork had nice strong pork flavour showing the quality of the meat. There was no real smokiness to it and it was chopped up fairly small. Larger pieces would have given a better texture. Best with some of their sauce (though we preferred the 'Texas' sauce to their 'Pork' sauce.
Turkey
The turkey was the least favourite of the meats we tried (we did not not try the sausage). Turkey is not a tender meat as a rule and this was a bit on the chewy side. There was very little smoke flavour and no smoke ring at all.
Experience
Franklin BBQ is well worth a visit. The staff were extremely helpful and friendly keeping a regular check on the queue to make sure everyone was okay. The place had a nice ambiance and the time spent in the queue, despite the cold, was enjoyable. We met some great people. It is easy to see where Franklin's reputation comes from.