It seems that tacos have become the new burgers in London. From a growing number Mexican restaurants to street food pop-up sites, tacos are more popular than ever. And have they changed!
Gone are the Tex-Mex favourites of old. Now it's all about gourmet tacos that meet the definition of taco only by being wrapped in a tortilla! Smoked bavette with chimichurri, beer-battered sea bream with salsa veracruz, pig's head cochinita pibil (what is that?) and even buttermilk fried chicken are the toppings at the best rated taco joints in London.
And that is all good. I love the new flavours, but I still enjoy the old Tex-Mex version too. Crispy shells, spicy mince, cheese, lettuce, salsa and sour cream — Yum!
Growing up we always used packet spices but over time I've worked out my own blend.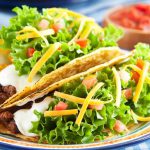 Crispy Beef Tacos
Slowly simmered mince with true Mexican spices give this dish its appeal. Better make plenty--they're moreish.
Ingredients
500

gm ground beef

1

medium onion

chopped

3

tablespoons

of taco spice mix

see below

12

taco shells

170

gm shredded American or Cheddar cheese

1 1/2 cups

2

cups

shredded lettuce

2

tomatoes

chopped

3/4

cup

salsa

3/4

cup

sour cream

if desired
Taco Spice Mix
4

tablespoons

chili powder

2

tablespoons

ground cumin

1

tablespoon

sea salt

1

tablespoon

ground black pepper

2

teaspoons

garlic powder

2

teaspoons

onion powder

2

teaspoons

paprika

1

teaspoon

red pepper flakes

1 1/2

teaspoon

dried oregano
Instructions
Heat oven to 250°F. In medium skillet, brown ground beef and onion over medium heat for 8 to 10 minutes or until beef is thoroughly cooked, stirring frequently. Drain.

Stir in the taco spice mix and add 1 1/2 cups of beef stock. Reduce heat to low; cover and simmer until the stock is absorbed (about 30-45 minutes).

Once the mince is ready, place taco shells on ungreased cookie sheet. Heat at 250°F. for 5 minutes.

To assemble tacos, layer beef mixture, cheese, lettuce and tomatoes in each taco shell. Serve with salsa; top with sour cream.
Taco Spice Mix
Just mix all of the ingredients together and store in an air-tight container.