Adrian and I are off to the USA for a road trip to discovery some the best barbeque that the USA has to offer. This is all in anticipation of our participation in the KCBS competition, Brew-n-Q, in May in Coalville, UK.
We're taking a 6-day road trip through Texas, Arkansas and Missouri to sample some of the top award winning BBQ joints. We'll be starting in Austin, TX – home to some of the best brisket around. You can pretty much throw a rock and hit a BBQ joint in Austin. From Austin we'll head to Lockhart, TX then to Taylor and Dallas. From there we'll head to Hot Spring and Littlerock, Arkansas and then up through Missouri via Springfield, Branson, Osceola and finally into Kansas City.
Our goal is to sample the best barbecue has to offer from some of the top BBQ spots in the heart of America. We'll try out different styles of 'Q and hopefully learn a bit from some of the masters. We will be keeping careful notes at each place we go using our "Tasting Note's" pages put together by my wife, Angela.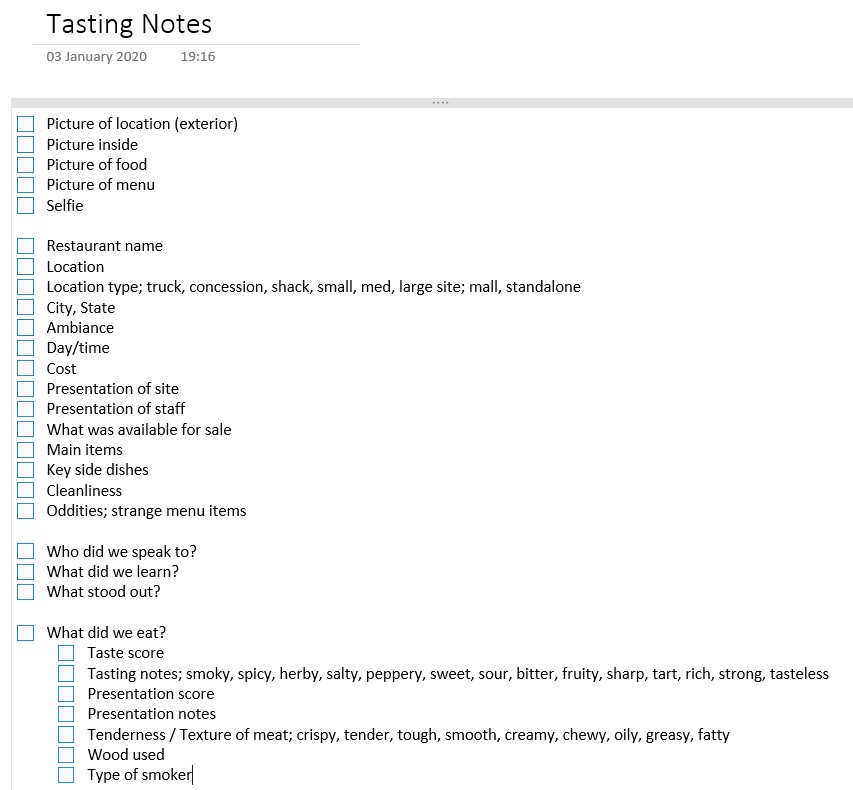 We'll also be scoring the food at each location in the same manner as KCBS competition. For those that have not been a part of barbecue competitions, there are some very strict rules and specific judging methods.
In competition, you are graded against three category: Appearance, Taste, Texture/Tenderness. Each category has a multiplier applied with taste being most important (57%, 2.2972), tenderness/texture next (28.6%, 1.1428) and appearance last (14.4%, 0.5600). You are scored 1 to 9 points for each category and then the multiplier is applied to get a final score.
Scoring lines out like this:
| | | |
| --- | --- | --- |
| 9 – Excellent | 6 – Average | 3 – Bad |
| 8 – Very Good | 5 – Below Average | 2 – Inedible |
| 7 – Above Average | 4 – Poor | 1 – Disqualified |
So you apply the multiplier to each score and then add them up. Let's say your brisket scores 9 for appearance, a 9 taste, and an 8 for tenderness. Use the multipliers and add this up and you get a score of 35.44/36.00. There are always six judges and the lowest score is thrown out giving a maximum of 180 points (36*5). Complicated isn't it!
You can see the full KCBS rules here: KCBS 2019 Official Rules and Regulations
Appearance
This is all about how the meat looks. Are the slices cleanly cut? Are the ribs even? Is the pulled pork in nice chunks or shredded until its mush? And the meat should be what shines – not the sauce. In short, it needs to look appetising.
Taste
This is the most important element of the judging. This is all about the flavour of the meat and the way it is seasoned. Surprisingly, great barbecue in a restaurant does not often earn a great score. That's because the judges are looking for the exceptional and so something a bit different. This is the biggest element of the score though so you have to get this right.
Tenderness
This is the second most important element. And again it isn't easy. Tenderness for brisket is different than for ribs. With ribs, they are looking for the meat to have enough texture to bite through without falling off the bone — most of us are looking for ribs that do fall off the bone when we go to a restaurant. And brisket should pull apart easily, but not crumble. Pulled pork needs to have a bite, not be soft or mushy.
Getting all of these perfect on any given day is the challenge! One or two is not so tough, but all three can be far more difficult.
So we are going to see how some of the best BBQ joints in America measure up and see what we can learn from it all — while trying to still make it home fitting into the clothes we take with us; I think that is going to be the biggest challenge of all!